Application Architecture
Manage, govern, and visualize your organization's application landscape
Book a Demo
What is Application Architecture?
A description of the structure and interaction of applications as groups of capabilities that provide key business functions and manage data assets.
Watch the Application Architecture Video
Application Architecture
Given the unprecedented pace of technological change, Gartner predict that more than 75% of multi-enterprise processes will be implemented as composite applications by 2018.
Traditional businesses are being reinvented overnight, and your organization needs to find a way to respond quickly and effectively to the sudden changes in the landscape. As a discipline, application architecture lays the foundation for agility, scalability and reliability in your application landscape, defining the framework of an organization's application solutions against business requirements.
Key iServer Benefits
A central source of truth for application information
Enhance application roadmaps
Remove the disparate excel spreadsheets that lead to duplication of effort and time wasted to ensure consistency
Attribute information sitting behind applications can be leveraged from the repository to provide a plethora of consumable insights to stakeholders, ensuring decisions are made quickly at a glance rather than by trawling through rows upon rows of excel spreadsheets
Out-of-the-Box Visio Templates
Templates include:
Application Roadmap Static
Similar concept to the Business Architecture
Application Roadmap Dynamic
Similar concept to the Business Architecture
The dynamic slider functionality leverages start and end dates, which enables organizations to be more proactive in their application consolidation activities.
Organizations want to ensure that all installed applications within their environment are supported by the vendor. Utilizing the start and end dates of the dynamic slider gives the organization more visibility as to when applications are going to go out of support. This enables organizations to be proactive in undertaking risk management and due diligence, ensuring their applications estate remains supported by the vendor. Moreover, work packages and resources are formulated accordingly, so that application consolidation or upgrade activities can take place seamlessly, significantly reducing the risk of firefighting.
A Centralized Single Source of Truth
Gone are the days of disparate excel application roadmaps circling the organization. The 'Consolidated Application Register as an Application Portfolio Catalogue' consists of individual objects with full version control, metadata and relationships.
The application catalogue, if created as a list view, can be viewed on the Portal by wider stakeholders. Portal contributors can even proceed to edit application attributes, promoting collaboration and the refinement of key application portfolio metadata.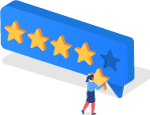 What our Customers are saying
Orbus iServer has the functionality where it counts, and ease where it's expected
We have had great experiences with Orbus. Starting from the pre-sales Q&A, to the contract and purchasing phase, through the install and configure phase, and all the way through training and into support. All of these gates were met with straight forward discussion and agreements an no misunderstandings.
Enterprise Architect in the Education Sector - read the full review
Read Case Study
Seeing is believing
Take a demo to see how we can transform how your enterprise operates