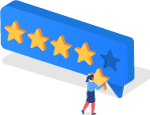 What our Customers are saying
Vendor relationship is fantastic and the product suits our environment perfectly.
The vendor is very responsive to any and all issues I report. They take the time to ensure your environment is setup properly the first time. Training was very focused and they were willing to answer all questions I threw at them.
Enterprise Architect in the Support Services Sector - read the full review
Read Case Study