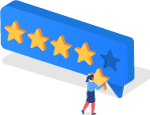 What our Customers are saying
Intuitive for users and consumers alike, with opportunities to integrate to other systems.
iServer comes with some great accelerators to help get your repository started. We have had the TOGAF and BPA solutions from the start and built on these to extend the metamodel for our own specific requirements. 
Architect in the Finance Sector - read the full review
Read Case Study