Business Architecture
Enable the ongoing development of your organization's target business architecture and strategy with iServer for Business Architecture
Book a Demo
What is Business Architecture?
A representation of holistic, multi-dimensional business views of: capabilities, end-to-end value delivery, information, and organizational structure; and the relationships among these business views and strategies, products, policies, initiatives, and stakeholders.
Watch the Business Architecture Video
Business Architecture
The enterprise comprises myriad component parts ranging from the physical, such as equipment and people, to the intangible – organizational structures, frameworks, software, and processes. There are also external influences including partners, suppliers and regulatory bodies. These make up the business ecosystem and need to interact and work together to deliver value to the end customer and revenue to the business.
Orchestrating the business's ecosystem is critical to developing and maintaining a competitive edge in the age of customer empowerment and digital disruption. Business architecture represents the capabilities, structures and systems of an organization. As a discipline and technique it can be used to align strategic targets with tactical demand, while improving communication and linking siloes throughout the business.
Key iServer Benefits
Get business capability models as Visio diagrams in TOGAF or ArchiMate notation
Diagrams can be published for stakeholder presentation with seamless drill down navigation in the iServer Portal – common customer examples include capability decomposition and process decomposition
Identify how work packages deliver critical business capabilities through applications, enabling a user to get a holistic view of their architecture across various domains
Effective management and presentation of business architecture frameworks
Understand the impact one change can have on the all-encompassing architectural environment
Develop a capability assessment approach to provide key insights on capacity and utilization of assets
iServer Repository
The iServer repository prevents the generation of disparate data sets within the enterprise, consolidating all work packages and acting as a single source of truth. The Work Package Catalog visualizes in a singular list view all activities being undertaken by an organization, consistency and visibility for all stakeholders.
iServer provides out-of-the-box templates to create relationships between work packages and the capabilities, providing the ability to see duplication of effort and generate capability decomposition relationships through utilizing hierarchy views.
Out-of-the-Box Visio Templates
Leverage attribute information sitting in the repository and enable the wider stakeholder community to view the complete project lifecycle in both static and dynamic diagrams.
Utilize dynamic Visio functionality to ensure that work packages and the capabilities they deliver are completed and decommissioned on time.
EA strategy on a page enables an organization to visually see their strategy on a single page, including:
Goals
Drivers
Value Chain (Process)
Measures
Requirements
Objectives
Initiatives
Capability Mapping
iServer provides out-of-the-box templates and drilldown functionality that enables capabilities decomposition.
The business capability map provides the visual depiction (or blueprint) of all business capabilities at an appropriate level of decomposition, logically grouped into different categories or perspectives which support more effective analysis and planning.
EA business capability on a page provides a notation for describing components of a capability for its assessment. This viewpoint essentially provides an indication as to the processes, people (roles) and applications (physical application components) that make up a capability and the current target lifecycle of these object types.
The capability gap chart shows the baseline vs target capability maturity and strategic importance. The data used within this capability gap chart is leveraged from the attribute information that can be created in either the central source of truth – the iServer repository or via the iServer add in within Visio.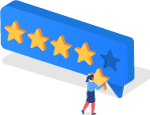 What our Customers are saying
Implementation was easy but build enough capacity up front!
Great experience, but size appropriately. We had to re-deploy because demand was so high.
Director of Technology in the Healthcare Sector - read the full review
Read Case Study
Seeing is believing
Take a demo to see how we can transform how your enterprise operates