Lean Process Improvement
Reduce lead times and operation costs with the elimination of waste and inefficiency from your organization

Reduce lead times and operational costs by applying a process improvement methodology to your business. iServer provides comprehensively support Lean methodologies for business process improvement. The central repository  provides organizations with a structure approach for successful business process improvement, and is built around the DMAIC method with a set of Lean templates including SIPOC, Value Stream Map and the Ishikawa Diagram.
Watch the Lean Capabilities Video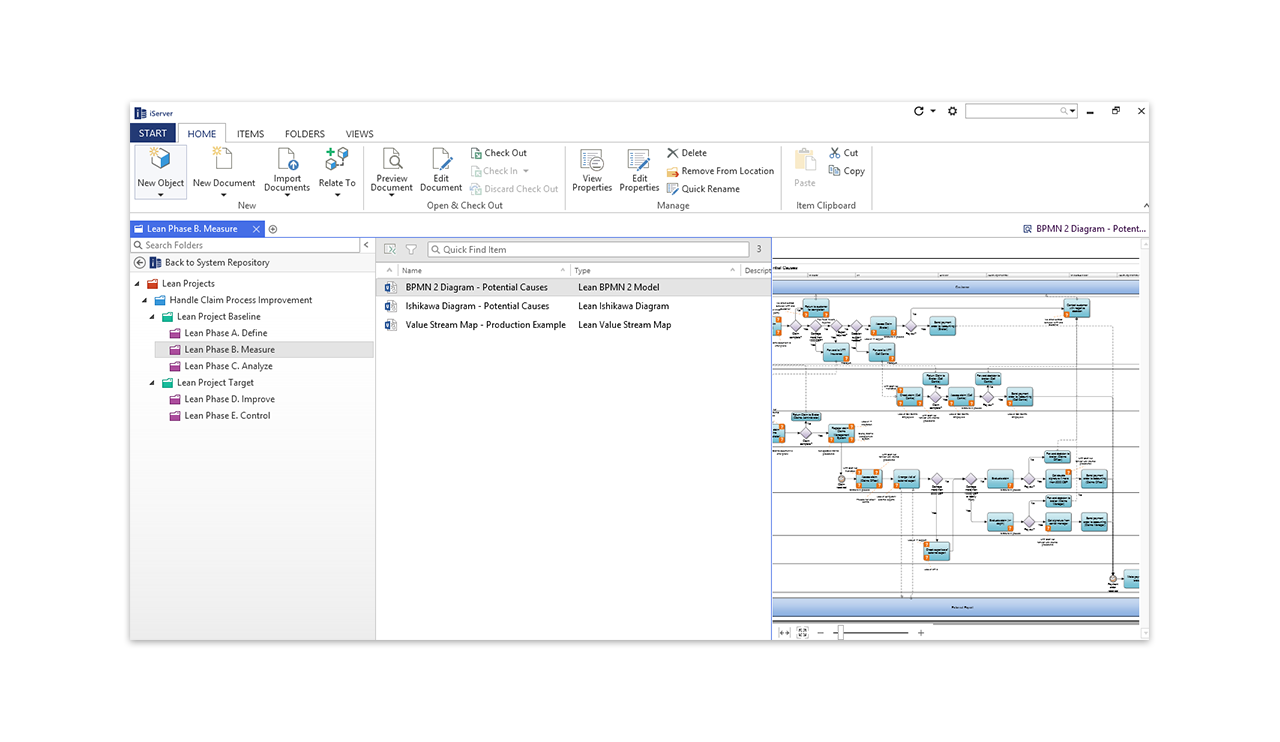 Business process repository - click to expand
Central Repository for Business Process Improvement
iServer offers a structured approach to business process improvement. The repository folder structure is based on the DMAIC process; Define – Measure – Analyze – Improve – Control. This makes iServer easy to navigate, and also helps users select the proper Lean technique at each stage of the improvement process. A number of deliverables can also be created at each stage to further the improvement process.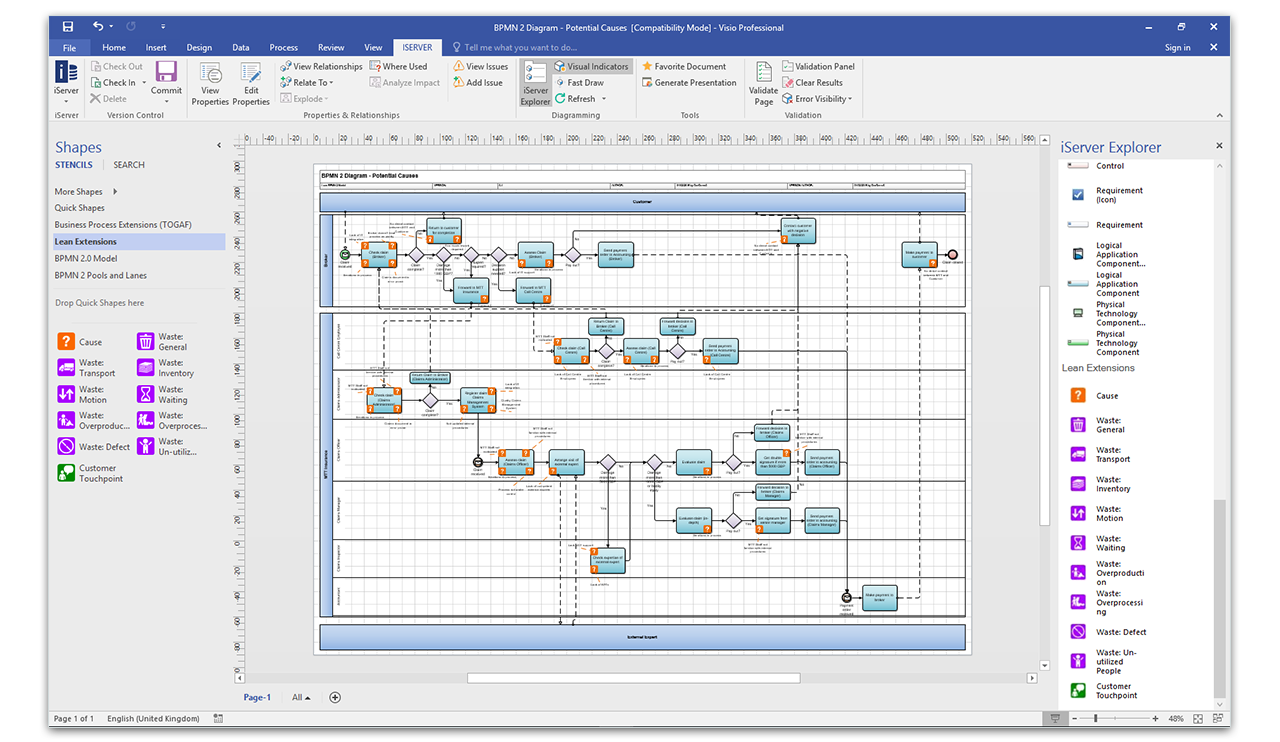 Lean templates and stencils
Lean Templates and Stencils
iServer provides a number of attractive, out of the box templates and stencils in Microsoft Visio and Word formats. These enable users to:
Scope processes with the SIPOC or IGOE diagram
Generate a Project Charter with a Project Team Map and Stakeholder Analysis Chart
Visualize waste and potential causes on a BPMN process diagram
Perform a root cause analysis using the Ishikawa Diagram or Root Cause Analysis Diagram
Identify and prioritize solutions using the PICK Chart, and monitor and implement those projects with a Solution Roadmap
Use a Value Stream Map to analyze and design the flow of material and information required to bring a product or service to a consumer.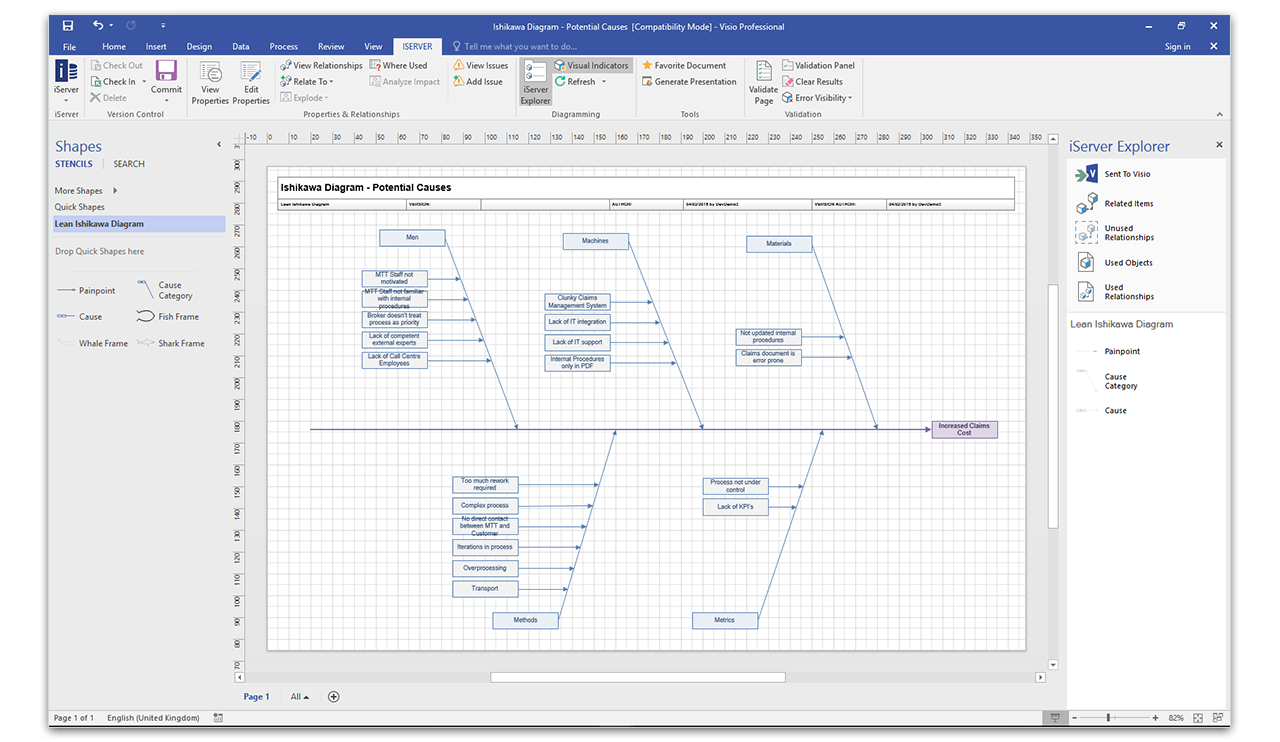 Lean Ishikawa diagram
Business Process Improvement Meta-Model
iServer provides a custom Lean meta-model, incorporating the BPMN 2.0 process modeling notation. It is also fully integrated with iServer's BPA meta-model, allowing teams to incorporate a Lean approach with other business process analysis and improvement initiatives.
Read more about iServer's extensive business process improvement capabilities.

Ready to take your Lean Capabilities further?