Data Architecture
Manage your data as an enterprise asset with iServer
Book a Demo
What is Data Architecture?
Data architecture is a set of rules, policies, standards and models that govern and define the type of data collected and how it is used, stored, managed and integrated within an organization and its database systems. It provides a formal approach to creating and managing the flow of data and how it is processed across an organization's IT systems and applications.
Watch the Data Architecture Video
Data Architecture
Data is an integral part of any process or service within the enterprise. More and more companies are treating data as information assets that differentiate them from their competition and provide the edge in delivering new services and finding market breakthroughs.
Businesses often operate on a value-chain or capability level, but underpinning this and making it tangible are data.
Compliance with Security and Governance demands is not possible without efficient and clear Data Architecture. Application and Infrastructure architects are often overwhelmed with data related requests; however, these should be resolved by the Data Architecture team.
Key iServer Benefits
Shared repository for importing and refining data
Workflows to notify data owners about any changes
Built-in user-portal that provides easy access to up-to-date information
Ability to reuse data between different architectural domains and avoid data inconsistency issues
iServer Repository
The iServer repository provides a shared space for architects to develop and maintain logical and conceptual models.
Architects can leave feedback on any item to resolve data inconsistency, ensure version and change control by tracking the history of all content, define standard catalogue for data maintenance and link data to applications, processes & technologies and instantly visualize it with the iServer relationships panel.
Conceptual Data Models
Construct conceptual data models using built-in Visio diagrams based on TOGAF and ArchiMate viewpoints, which allow you to start modelling from day one.
Conceptual data models make sense of the information within your enterprise on a strategic level and address the needs of a wider C-level audience. This information can later be reused and refined in the logical data models which also come pre-built with the iServer solution.
Logical Data Models
The detailed logical data models support solution architecture and implementation efforts. Pre-built TOGAF, ArchiMate, and UML Visio templates can be leveraged to design detailed logical data models and share them with other architects instantly. Moreover, it's possible to reuse any existing information to avoid duplication and extra effort. Once design is finished, create drill downs to specific implementation details or platforms.
Furthermore, data can be enhanced with custom attributes by means of a flexible metamodel.
Document Patterns
Develop design patterns for data architecture which can be stored in either Visio or Word documents and shared with a wider audience via built in user Portal.
These documents can later be improved, reviewed, and approved through our built-in workflow engine. Automatic notification is sent out to notify everyone when a change occurs and new design rules are in place.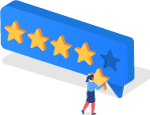 What our Customers are saying
Low learning curve, you can spend time on your capabilities instead of learning a tool.
Intuitive tool with Visio as UI meant we could focus on how to use TOGAF, ArchiMate, BPMN2 etc. in our organization, and not spend time learning a cumbersome tool. The excellent collaboration and publishing features of iServer were also key selling points for us.
Senior Enterprise Architect in the Manufacturing Sector - read the full review
Read Case Study
Seeing is believing
Take a demo to see how we can transform how your enterprise operates