IT4IT™ 
A central repository preconfigured to the IT4IT Reference Architecture, notation and framework
Released by the Open Group in late 2015, the IT4IT™ vision is a Reference Architecture for managing the business of IT, consisting of a formal IT operating model based on the value chain concept that revolutionized manufacturing, known as the IT Value Chain.
Watch the IT4IT Reference Architecture Video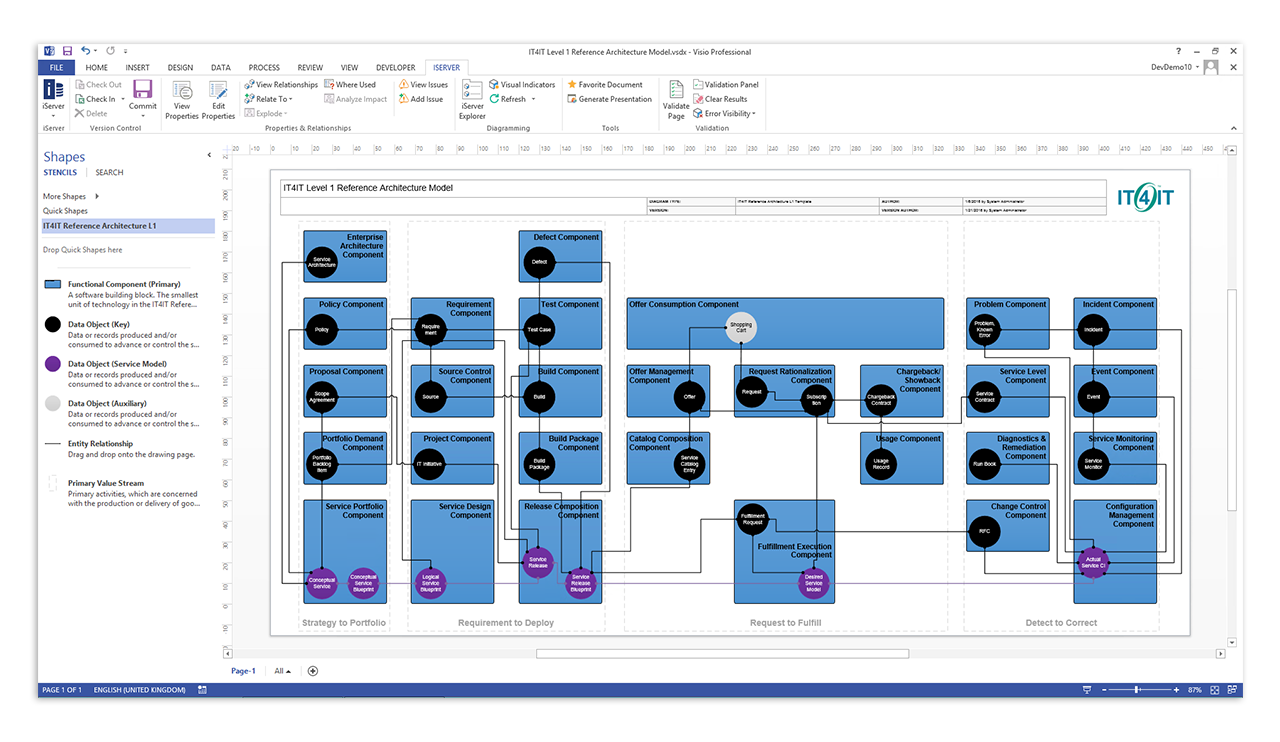 IT4IT Reference Architecture Level 1 - click to expand
A Central Repository for IT4IT
iServer provides support for the IT4IT specification in the form of a preconfigured central repository with Visio modeling stencils and diagram templates. It also provides core models and examples necessary for implementing the IT4IT specification. This includes the IT4IT Reference Architecture Model Levels 1 and 2.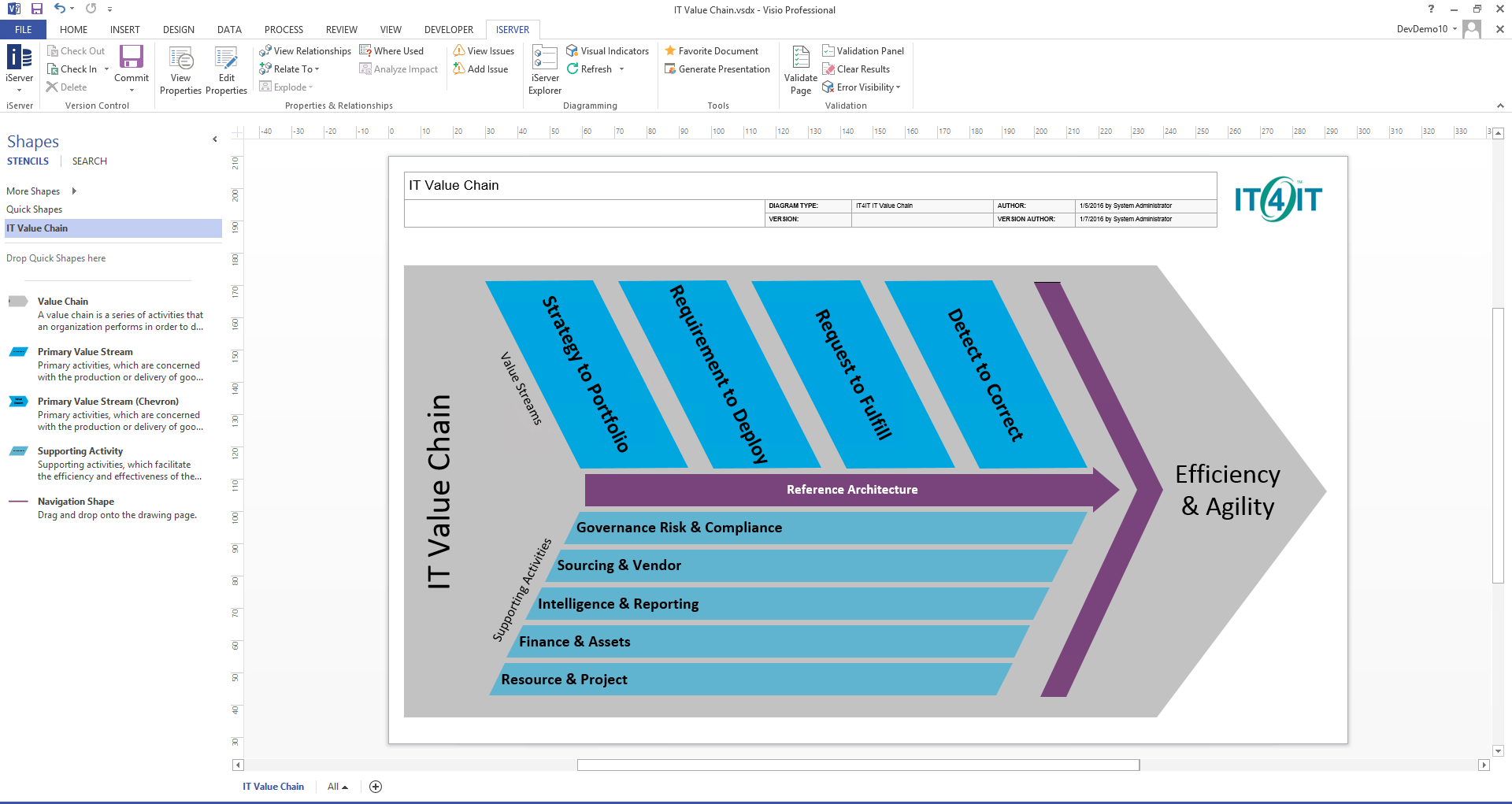 IT4IT Value Chain
IT4IT Value Chain
iServer's IT4IT software uses a Value Chain approach to help organizations standardize their IT landscape documentation and modeling by using The Open Group's IT4IT informal modeling notation, and ArchiMate 2.1. It provides the IT4IT Value Chain Model, decomposed into value streams and components via drill down diagrams.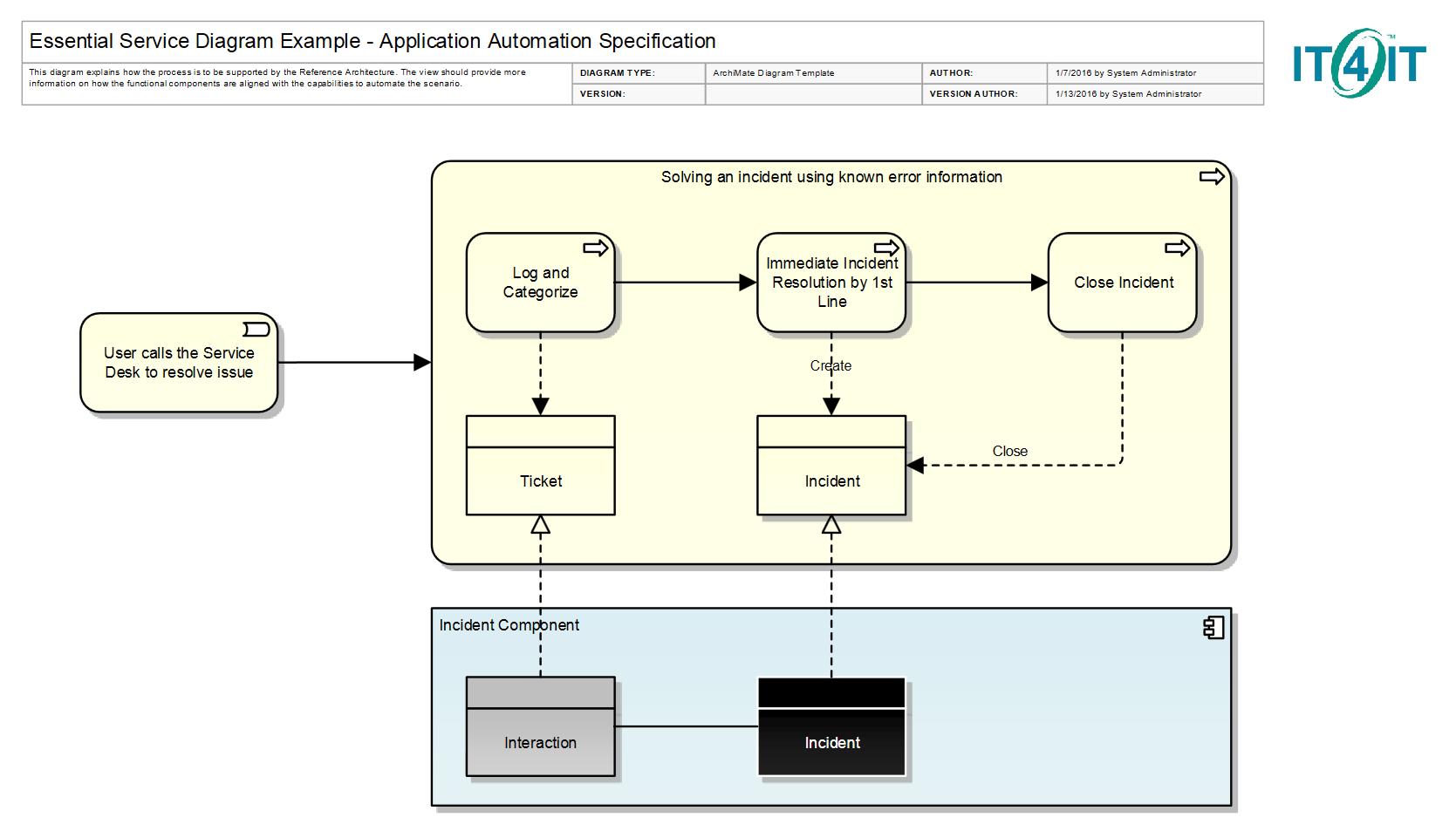 IT4IT ArchiMate support
Notation and Framework Support
iServer provides full support for the ArchiMate notation to help model details of the IT4IT components. iServer also offers full integration with other reference frameworks, methodologies and standards. Integration with the TOGAF ADM is available through a governed repository structure and fully documented Architecture Development Method (ADM). Other frameworks and standards that can be integrated include the ITIL 2011 framework, COBIT 5 for IT governance best practice, Lean process improvement, and SABSA for IT security guidance.
Click here to see the full range of converging standards and frameworks that iServer supports.
Book a Demonstration
Let us show you what iServer can do for you with a free, personalised demonstration of iServer's capabilities.
Book your Demo
Customer Success Story
Woodside Energy Implements iServer for the Alignment and Standardization of their Technology
Woodside Energy is Australia's largest independent oil and gas exploration and production company. Following Woodside's establishment in 1954, they have grown to become a leading supplier of energy to the Asia Pacific region. Today, Woodside produces the equivalent of around 900 000 barrels of oil each day, from a portfolio of facilities which they operate on behalf of some of the world's major oil and gas companies.

Our website uses cookies to improve your experience on our site. By using our website you consent to the use of cookies.