ArchiMate 3.0: Physical Layer
A comprehensive set of templates, stencils and a meta-model to support ArchiMate modeling in your organization
Book a Demo
ArchiMate 3.0 introduces the concept of Physical elements. This is due to the ever-increasing integration that we are witnessing between the digital and physical worlds. Initially, the standard was designed to assist IT-intensive enterprises. However, the reality is that machinery is steadily becoming smarter through the addition of sensors and communication capabilities (keep in mind the rise of the Internet of Things). This coincides with EA maturing in industries such as logistics, manufacturing and healthcare. 
Watch the ArchiMate Video
ArchiMate 3.0: Physical Layer
When you consider these developments, then the need to model material environments becomes apparent. It's this need that ultimately triggered the introduction of the new Physical elements. These are Facility, Equipment, Distribution Network, and Material. In the ArchiMate 3.0 framework they are represented as the Physical layer, which is very closely related to the Technology layer not least because the two share behavioral elements. To reflect the rise in importance of the union of material and digital, in ArchiMate 3.0 nodes are able to combine both physical and IT elements. Therefore, architects and analysts can now depict healthcare wearables, or a smart assembly line and so on. Furthermore, the concept of Communication Path is renamed Path. This modification extends the concept's meaning, allowing for the transport of not just information, but matter as well. As a result, Path is now a generic concept that features two specializations – Communication Network (exchange data) and Distribution Network (exchange material).
| | | |
| --- | --- | --- |
| Element | Definition | Notation |
| Equipment | One or more physical machines, tools, or instruments that can create, use, store, move or transform materials. | |
| Facility | A physical structure or environment. | |
| Distribution Network | A physical network used to transport materials or energy. | |
| Material | Tangible physical matter or physical elements. | |
ArchiMate 3.0 Physical Elements
It's safe to say the introduction of physical elements in ArchiMate 3.0 is a useful and welcome addition. And with the rise of the Internet of Things in the coming years, these elements will see increasingly more use. For now here are the main points covered in this area:
The introduction of new Physical elements (Equipment, Facility, Distribution Network, Material) shown as a Physical layer in the framework
Nodes combine physical and IT elements
The concept of Communication Path renamed Path; it has two specializations, Communication Network and Distribution Network
You can read more about the changes in ArchiMate 3.0 using the links below: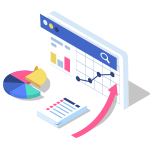 Business Case
Download a business case outlining the benefits of the tool.
Get your copy