Watch the ArchiMate Video
Why ArchiMate 3.0?
ArchiMate 3.0 was released in 2016 as a replacement for the previous version, ArchiMate 2.1. The main reasons behind The Open Group's decision to launch a new version were:
The natural tendency of organizations to tie in EA with business strategy
The increasingly blurry boundary between the digital and physical worlds (e.g. the Internet of Things), as well as the adoption of EA in industries that have a close relationship with the material world, such as logistics, healthcare, manufacturing, and energy.
A desire to correct inconsistencies, increase overall clarity and improve alignment with other Open Group standards (e.g. TOGAF)
However, the arrival of ArchiMate 3 left a number of people unsure of the differences between the two versions. Many users were left wondering – What is the difference between ArchiMate 3.0 and ArchiMate 2.1?
Well, as one might expect from two consecutive iterations of the same standard, the two versions are quite similar – just think of a horse and a zebra. Having said that, ArchiMate 3 sees a number of interesting changes and additions that set it apart from its predecessor. In order to help you get a handle on these differences, here is an easy to digest guide to ArchiMate 3. All additions are illustrated using iServer to give you a better idea of what they look like in a real-world scenario.
What's in ArchiMate 3.0?
To users who have a history of using ArchiMate, a simple look at the new framework will make the magnitude of the changes apparent. Professionals will still recognize the core of ArchiMate, but 3.0 expands the capabilities of the standard and adds improvements, both visible and invisible.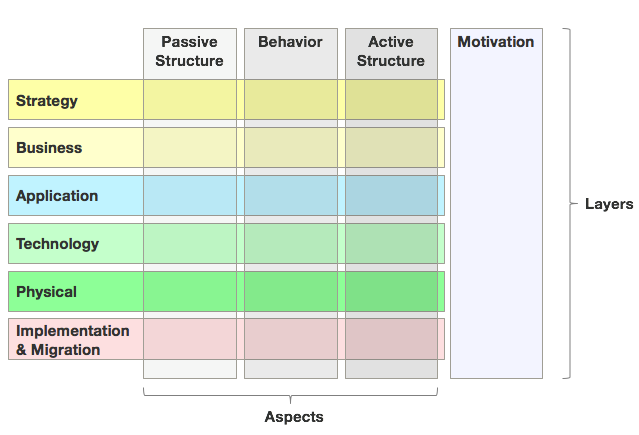 Summary
Overall, the changes in ArchiMate 3.0 have followed the evolution of enterprise architecture in recent years. The standard clearly recognizes the increasing integration between the physical and the digital worlds, which is best summarized by the rise of the Internet of Things. It also acknowledges the fact that organizations are relying on enterprise architecture more and more not just to inform their IT decisions, but to provide guidance for the entire business. This need to answer the strategic dimension of EA is one of the main drivers of change in this release.
ArchiMate 3.0 recognizes the weaknesses and limitations in the previous version and it addresses these fittingly. From the introduction of the upper-level, generic meta-model and the Viewpoint Mechanism to the graphical enhancements and the revised cross-layer relationships, the standard now feels more responsive. Sure, the language is not ideal but users can expect a tool that is more adequate at describing the realities of their practice. 
Book a Demonstration
Let us show you what iServer can do for you with a free, personalised demonstration of iServer's capabilities.
Book your Demo