iServer's Enterprise Architecture Capabilities
Implement a fully tailored enterprise architecture repository for a collaborative architecture practice
iServer creates a single source of truth for your enterprise architecture. It establishes a collaborative modeling practice by building on Microsoft Visio, creating a familiar and trustworthy environment for your organization to develop your architecture. iServer provides a fully customizable meta-model, supporting industry standards or a repository fully tailored to your needs. Book a free consultation with our team to find out more.
Watch the Enterprise Architecture Video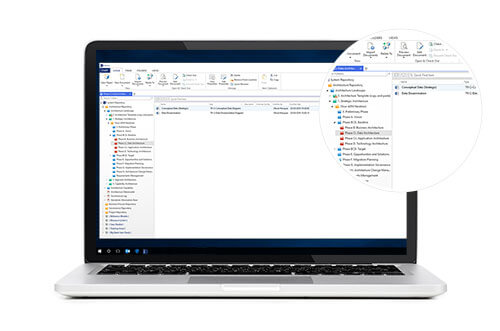 Central Architecture Repository
iServer for EA provides a central repository for the enterprise architecture team to collaborate on architecture models, catalogs and documentation. The repository is the storage point for all the enterprise architecture artifacts (which are governed by an underlying meta-model), architecture diagrams (in Visio format) and documentation (in Microsoft Word, Excel and PowerPoint) formats. The repository provides a number of governance and collaboration features, such as role-based permissions, change management (versioning), import/export and search.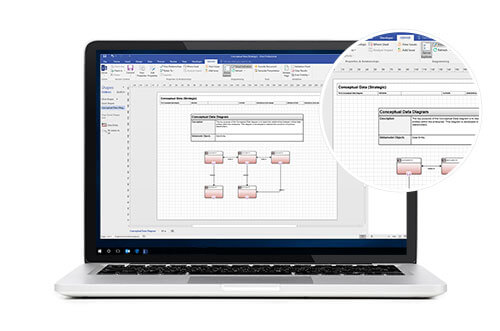 Continue using Microsoft Visio
Rather than providing a proprietary diagramming interface, iServer extends and enhances Microsoft Visio. Existing Visio diagrams can be imported into the repository and reused. Also, as iServer diagrams retain their native Visio file format, they can easily be shared with colleagues who don't have access to iServer.
iServer's enterprise architecture capabilities turn Visio into a collaborative multi-user tool where diagrams are driven by live data stored in the repository. Repository objects (such as applications or processes) and their relationships can be reused across multiple architecture diagrams.
Additionally, iServer for EA allows you to place tight controls around which standards and notations are permitted and enforced, leading to more consistent and accurate diagrams.
Preconfigured Meta-Model
iServer for EA gives you full control to quickly configure and adapt the repository to your own customized meta-model, and this is very easy to do through the user interface. iServer also allows you to use any modeling notation – many are provided out of the box, including ArchiMate, BPMN, and UML, but any Microsoft or 3rd party Visio template can be installed if desired. It is also possible to easily design your own notations.
iServer also provides complete support for many architecture frameworks, including TOGAF 9.1, IT4IT, and MODAF.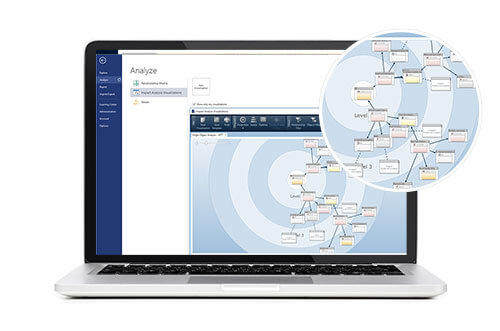 Decision Support and Analysis Tools
iServer provides a variety of tools that aid decision making and analysis for enterprise architects. These include heatmap diagrams that are dynamically colored and annotated with data-driven graphics, and Impact Analysis to allow the dynamic visualization of dependencies, answering questions such as "if we retire this application, what is the impact on our business processes?" Dashboards and reports present key statistical information to executive stakeholders, while matrices allow relationships to be depicted and edited in bulk. Bubble charts allow items to be compared according to a number of different scores.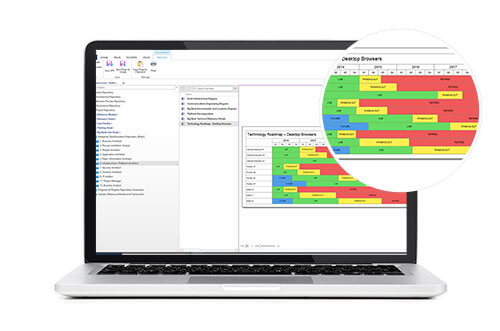 Generate Architecture Roadmaps
An enterprise architecture design may have a number of past, current (baseline), future (target) and transition states. Architecture roadmap diagrams are a useful tool for presenting how the architecture will change over time. A number of roadmap visualization templates are available within iServer, including:
Application roadmaps – showing applications that are phased in and out over time, and the cost increase/reduction.
Technology roadmaps – showing support for technology standards over time.
Project roadmaps – showing in flight projects and costs, driven by data from external PPM tools.
Download the Flyer
Read more about iServer's Enterprise Architecture capabilities in this short brochure. You can download it by clicking the link below.
Download Now