iServer support for FEAF
Promote high-level agency integration with the Federal Enterprise Architecture Framework (FEAF) in iServer
Book a Demo
The Federal Enterprise Architecture Framework (FEAF) is an EA framework developed by the federal government of the United States. FEAF provides both a methodological approach for an EA practice, as well as a comprehensive taxonomy for it. Its purpose is to promote higher levels of mission effectiveness as well as a means of ensuring a high degree of integration between different federal agencies. 
A Central Repository for FEAF
iServer can be delivered with a repository that is preconfigured for FEAF. iServer is a fantastic platform for enforcing governance of processes, content creation, and metadata management and thus help accelerate the rate of change within your organization. FEAF is brought to life within the iServer repository and enables organizations to map processes, systems and technology to a common architecture providing greater clarity and improved decision making.
FEAF Reference Models
A complete set of the six reference models for FEAF Version 2 are provided. At the core of the framework is the Consolidated Reference Model (CRM), which is made up of six interconnected reference models that describe the framework's six sub-architecture domains:
Application Reference Model
Business Reference Model
Data Reference Model
Infrastructure Reference Model
Performance Reference Model
Security Reference Model
Facilitate Communication
The six reference models of FEAF are thought of as being highly interconnected. Professionals in an EA practice likewise need to act as a single unit. In order to help achieve this degree of coordination, iServer facilitates the sharing of information inside as well as outside the agency thanks to its solid communication modules. This lets architects quickly communicate insights to relevant stakeholders, which also speeds up decision making to the benefit of the entire organization.
Implement & Safeguard Standardization
FEAF adopters will find iServer of great help when it comes to governing their architecture. The platform's extensive governance capabilities ensure that administrators keep the quality of the repository at a very high level and different stakeholder groups optimally informed according to their clearance level.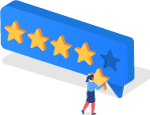 What our Customers are saying
Rapid implementation, flexibility, ease of use led to agile approach to arch & strategy
2 weeks after training, we had our meta-model built, converted 20 pre-existing Visio strategy maps into iServer Visio diagrams with objects and relationships in the repository, and were importing and exporting data via Excel for those object's attributes.
Chief Enterprise Architect in the Healthcare Sector - read the full review
Read Case Study
Seeing is believing
Take a demo to see how we can transform how your enterprise operates