The Principles of IT4IT™
Understand the principles of the IT4IT Reference Architecture, developed by The Open Group
Book a Demo
IT4IT is a prescriptive IT reference architecture. It reduces cost, simplifies, and brings end-to-end traceability to your IT production. It provides the structure and tools for business to organize and manage their IT as if it was a business in its own right.
The Principles of IT4IT
Since its conception, more than a trillion dollars has been spent on IT framework training, certification and implementation, with particularly important work being done with ITIL and COBIT. But the full recovery of this value has sometimes been elusive.
Other mature industry verticals, such as retail or telecom, and professionalized management functions such as HR and Finance, all have a standard approach and reference architecture. The lack of such in IT is driving up cost.
IT4IT is the IT industry's response. It is a prescriptive IT reference architecture.
It reduces cost, simplifies, and brings end-to-end traceability to your IT production.
Furthermore, it is becoming increasingly apparent that IT is a production-organized business. Like a manufacturer, IT takes demand from the business lines, then produces and delivers services.
And what kind of method would a manufacturer employ to increase efficiency and drive-down cost?
It would use the Value Chain concept. The Value Chain is tested and proven; it is business-based and can be measured.
IT4IT provides the structure and tools for organizations to manage their IT function as if it were a business in its own right, and achieve the same level of business discipline, predictability and efficiency as other functions in the business.
It enables IT management to work across the entire Value Chain in a better, faster, cheaper way with less risk and without involving a wholesale organizational change. You can map your current landscape onto IT4IT, and you can do it incrementally.
How IT4IT Relates to and Supports other standards
IT4IT also directly relates to other standards.
The Open Group IT4IT Reference Architecture standard is focused on defining, sourcing, consuming, and managing IT services by looking holistically at the entire IT Value Chain. While existing frameworks and standards have placed their main emphasis on process, this standard is process-agnostic, focused instead on the data needed to manage a service through its lifecycle. It then describes the functional components (software) that are required to produce and consume the data.
Once integrated together, a system of record fabric for IT management is created that ensures full visibility and traceability of the service from cradle to grave.
IT4IT is neutral with respect to development and delivery models. It is intended to support Agile as well as waterfall approaches, and Lean Kanban process approaches as well as fully elaborated IT service management process models.
IT4IT Standards Reference - click to zoom
Furthermore, IT4IT is the Reference Architecture for the IT software ecosystem. It describes what you would put in place to manage IT itself, and so it underpins ITIL and COBIT.
TOGAF ® is an industry-standard architecture framework describing how you would go about introducing IT services. So in that sense, IT4IT is one of the libraries that TOGAF ® recommends you develop for any area in IT that you want to manage.
Finally, ArchiMate is a modeling language for business services, and is the form of language chosen by IT4IT, which is also in line with TOGAF ®.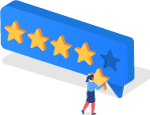 What our Customers are saying
An easy to use product that is simple to implement and get up and running
Provide great support and always keep in contact to provide advice and enaure we are getting the best value out of the product. They arrange face to face meetings twice a year to do this and really focus on our business needs.
System Architect in the Finance Sector - read the full review
Read Case Study
Seeing is believing
Take a demo to see how we can transform how your enterprise operates