Infrastructure Architecture
Model, manage and execute your IT infrastructure strategies in alignment with business objectives using iServer
Book a Demo
iServer Solves Problems for Infrastructure Architects
iServer supplies the ideal platform for defining and governing an organization's infrastructure architecture. Visualize the impact of proposed changes and gain meaningful insight that will allow you to drive more value for the company.
iServer is the solution to all of the infrastructure architect's problems. The platform features an extensive range of infrastructure architecture capabilities that will allow you to approach any problem with confidence. Whether the task be simple or complex, iServer will support your initiative and ensure you get high quality output. Here are some of the most frequent issues that our solution helps infrastructure architects to deal with.
Watch the Infrastructure Architecture Video
Infrastructure Architecture
How do I obtain a holistic view of the enterprise's IT infrastructure?
With the advent of the cloud, virtualization, acquisitions & mergers, as well as the Internet of Things (IoT), obtaining a complete view of a company's IT assets, such as hardware and software, can be challenging. iServer helps you manage an environment ever increasing in complexity with its great views and dashboards capabilities. For instance, you can access a technology standards catalog for accurate and comprehensive information. Your work is constantly at risk of being negatively impacted by disruptive forces such as digital transformation, data centre consolidations, cloud acquisitions etc., but with iServer you can be certain you are always on top of everything.
What technologies do not support business requirements effectively?
Infrastructure architects are often required to report on a certain logical technology component's effectiveness in supporting the business requirements. They are asked to find a rationale for it within the larger enterprise but pinpointing the exact way in which that actually happens can be quite difficult. iServer again proves very useful. By using, for instance, a Technology out of Vendor Support hierarchy view you can see how every technology component contributes to a specific goal. As a result, you can aid decision making in case of changes being required to the technology landscape. Tasks such as these are also relevant territory for iServer's Impact Analysis Visualization Tool, which helps users identify what technology would be impacted during process change and optimization initiatives.
Where are specific applications and technologies hosted?
Infrastructure architects are frequently expected to provide information in order to help decision making. An important question that gets asked a lot is to locate the enterprise's applications and technologies. Using the 'Locations and Environments' Diagram, you can pinpoint to your audience where these are hosted. Therefore, it gives the organization an idea of not only what would be impacted if change occurs to these applications and technologies, but also where it would be affected.
How can I make sure my architecture is stable?
Without access to industry standards to create a structured approach for developing an organization's technology infrastructure, the resulting architecture can be unstable and short-lived. This can ultimately mean a severe financial cost. iServer's support for technical reference models provides a foundation that supports technology and industry standards within the business. By using a model, architects are afforded shorter development lead times, benchmarking with industry standards based on best practices, and compliance with government technology regulations.
How do I disseminate infrastructure architecture views quickly and effectively enterprise wide?
Collaboration is an essential part of any infrastructure architecture, especially as any holdups or miscommunications can be costly, wasting valuable resources. iServer facilitates access of real time infrastructure information from the repository with the help of its communication modules. This ensures a continuous flow of feedback during change initiatives and prevents delay. What's more, it guarantees the latest version of the infrastructure landscape is immediately available to the organization.
How can we improve stakeholder engagement?
iServer's IT Portfolio Management capabilities provide tools to communicate your portfolio and analysis results to your stakeholders. Technology portfolio information and reports can be published directly to the organization's intranet. This increases the visibility of the portfolio information and provides greater transparency. Executive dashboards can also be used to provide high level information to senior management stakeholders, so they are able to digest key statistics but also drill down into details where necessary. iServer is a powerful platform for communicating the results of your work with the organization at large and this lends weight to you and your department.
How do I effectively manage a technology portfolio?
IT portfolio management has become a very important aspect of an infrastructure architect's job. Properly conducting this activity involves a great degree of collaboration. That's why iServer's IT Portfolio Management capabilities enable organizations to inventory and manage their technology portfolios from a single location. The Application Portfolio Management (APM) toolkit in iServer enables portfolio views and management dashboards that capture relevant information about the organization's technology portfolio. iServer's communication modules, Live Documents, Portal and HTML Publisher can be used to share architecture repository information with relevant stakeholders.
How do I ensure access to user-relevant information?
iServer's Application Portfolio Management features can help infrastructure architects determine what services and technology support are required from each business unit. The APM dashboard can retrieve information on the number of users or applications supported by a particular technology solution, vendor contract or technology lifecycle. It is able to match technology solutions to business requirements, reduce total cost of ownership, and evaluate scoring criteria based on business versus technology fit or business dependence versus potential contribution.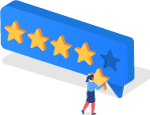 What our Customers are saying
We needed a system that was more scalable than spreadsheets, and cost effective.
Orbus has always been easy to deal with; technical support is excellent and customer service is responsive and proactive.
Technical Lead in the Finance Sector - read the full review
Read Case Study
Seeing is believing
Take a demo to see how we can transform how your enterprise operates