Process Architecture
Develop, optimize and improve your organization's business process landscape using iServer
Book a Demo
iServer Solves Problems for Process Architects
iServer is a superior process architecture platform that allows you to create a holistic view of your business processes with accurate, up to date information. Visualize the impact of proposed changes to the overall process architecture and gain meaningful insight into business processes. Using iServer, process architects will dramatically increase their ability to map, improve and manage their organization's process architecture such that significant benefits will quickly become apparent.
iServer aims to solve any problem you might throw at it. The platform features many process architecture capabilities that exist to cater to your every need, so you can feel confident about embarking on the most difficult of tasks. Please find below some of the most frequent issues that iServer helps process architects to deal with.
Watch the Process Architecture Video
What are the most important, high level processes?
It is quite important to be able to immediately identify a certain category of processes in order to quickly communicate a particular architecture view to a stakeholder, for example. Process architects can achieve this by using the hierarchy view capability to understand what the highest level processes are. Furthermore, they can gain an understanding of how these processes work to create better operational improvement initiatives and by using the American Productivity and Quality Center's (APQC) process classification network, it allows for the structuring of processes into a well-defined, widely accepted process framework.
How does a process contribute to the organization's operational improvement initiatives?
Process architects are often asked to provide justification for a certain individual process or group of processes. They need to find a rationale for them within the larger enterprise but pinpointing the exact way in which such a little piece contributes towards a larger goal can be quite difficult. iServer again proves very useful. By using, for instance, the 'Process Waste Scan' diagram you can see how every process contributes to specific initiatives. As a result, you can aid decision making in case of changes being required to the process landscape.
Tasks such as these are also relevant territory for iServer's Impact Analysis Visualization Tool, which helps users identify what processes, roles, and application support would be impacted during process change and optimization initiatives. Architects are able to gather information on the impact, priority and risk associated with each business process as well as any changes to a business requirement. They can see how these processes are directly and indirectly related to other object types including business objectives and goals and quickly assess the impact of change on any process. So, if dependencies and relationships are mapped between other processes, roles and applications, then the impact analysis will show what will be affected as a consequence of change to the process.
What are the outputs of a process and what customers are involved?
The outputs of a process dictate, to a large degree, its importance. When deciding to modify a process' make up, it is useful to know its outputs further down the line, as well as what customers it has a relationship with since knowing these things bear a weight on the decision making process. With the help of a SIPOC diagram, you can evaluate the outputs of the processes and the customers that are going to be involved. Therefore, iServer's SIPOC template will provide architects with considerable insight, allowing them to drive more value for the organization.
How do I disseminate process architecture views quickly and effectively enterprise wide?
Collaboration is an essential part of any process architecture, especially as any holdups or miscommunications can be costly, wasting valuable resources. iServer facilitates access of real time process information from the repository with the help of its communication modules. This ensures a continuous flow of feedback during process improvement and prevents delay. What's more, it guarantees the latest version of processes are immediately available to the organization.
How can we improve stakeholder engagement?
CIOs need to determine the best course of action for their organisation, but without a clear insight into processes, functions and the application portfolio, it is difficult to make the best investment and development decisions. With iServer's selection of process architecture dashboards, executive stakeholders are able to gain valuable insights from the process landscape.
How do I leverage a Business Intelligence tool I already have?
Nowadays, markets are a fierce battleground. As a result, businesses are making use of a variety of tools in order to get an edge on their competitors. Using a business intelligence tool is common place, but what happens if it doesn't integrate with your organization's process architecture solution? It limits valuable output and probably involves looking for a replacement in the near future. We understand companies need to be able to make use of all available resources, which is why we created BPM Connect. By using BPM Connect, organizations are able to use their own business intelligence tools that they have to show their Processes. This means they can communicate in a format that is familiar to the organization and create dashboard views and reports for a variety of stakeholders.
Can we eliminate a certain process to cut costs?
Organizations often have inefficient processes because they were designed taking into account resources that either differ in availability or have changed altogether. These situations take place often in the business world and are inherent to mergers, acquisitions, etc. iServer offers a complete, up to date view of the process landscape, enabling users to quickly and easily identify processes that bring little to no value and thus are great candidates for redesign. This benefits the enterprise by eliminating unnecessary costs – financial, operational etc.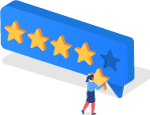 What our Customers are saying
We needed a system that was more scalable than spreadsheets, and cost effective.
Orbus has always been easy to deal with; technical support is excellent and customer service is responsive and proactive.
Technical Lead in the Finance Sector - read the full review
Read Case Study
Seeing is believing
Take a demo to see how we can transform how your enterprise operates