iServer
A collaborative modeling tool utilising Visio and Office technologies to provide a complete business and IT transformation platform

The iServer Business and IT Transformation Suite is a globally recognized, market leading software platform for organizations to manage, govern and visualize their business and IT transformation. It is the only platform that supports the converging practices and integrated standards that enable successful transformation. iServer is a unique proposition that enables businesses to continue to use familiar Microsoft technologies, including Visio, Office, SharePoint and SQL Server, providing the most easy to use environment for planning and executing strategic change.
Central Repository for Visio and Office
This SQL Server-based repository is the storage point for diagrams and models, in Visio format, and any associated documentation in Microsoft Word, Excel and PowerPoint formats. This unique support for Microsoft content means users can collate and import all their existing documentation using iServer, and continue to use Microsoft applications to model and document the enterprise.
The repository also provides a range of standard features to enable teams to collaborate, including:
Role based permissions
Role based views
Versioning and audit trail
Import/export
Repository search
The iServer repository acts as a single source of truth for the organization, greatly reducing duplication and time spent replicating previous work. It is also facilitates collaboration between modelers across different business and IT practices.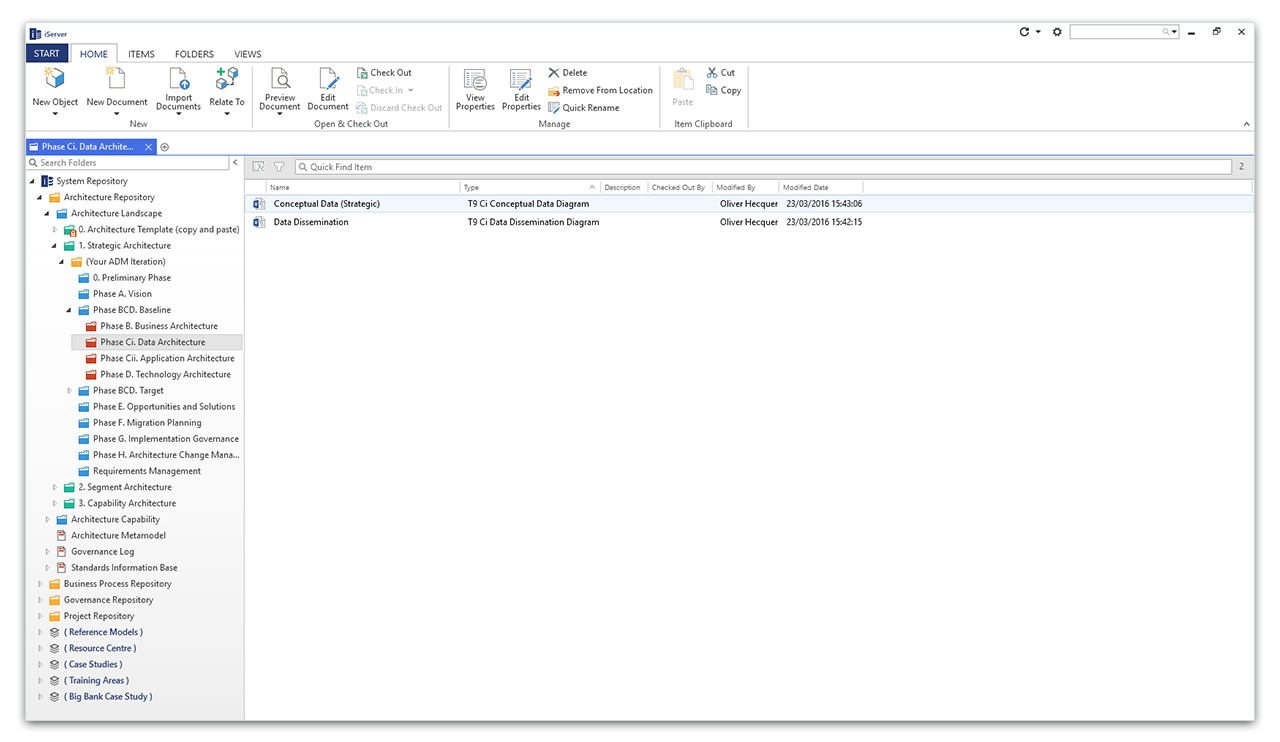 Central Document Repository
Workflow
iServer Workflow is a full-featured workflow system used to trigger notifications, perform system actions and manage content approval in iServer. This tool essentially allows administrators to build workflow templates that ensure content is approved before it is checked back into iServer. Workflow is extremely useful in safeguarding the quality and integrity of information within the repository. It makes it possible to set up email notifications to certain users when items are copied, deleted or edited. This elevated level of control is needed to guarantee that only sanctioned alterations take place, especially in relation to highly sensitive items.
iServer Workflow brings a much sought after degree of automation to architects' job. Once a workflow has its rules defined and it is triggered by an action, it will closely follow a pre-set course until completion. Provided the users supply the required input when prompted, the process will reach the designed outcome without requiring human supervision. Workflow supports approval-based visibility, which means the single source of truth is never altered unless the changes get a final sign off by the content owner. The separation between draft work and approved work minimizes the risk of accidental submissions, ensures a streamlined experience and improves content governance.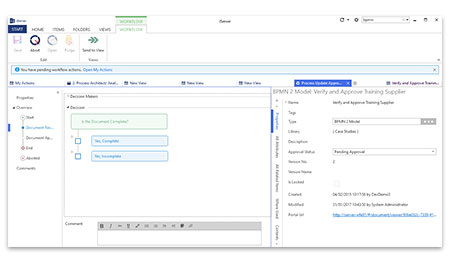 iServer Workflow
Enhanced Views
iServer's Enhanced Views capability is comprised of a powerful set of List, Hierarchy and Matrix Views. The views are very useful because they allow architects to perform comprehensive content analysis in support of their projects. Using Enhanced Views, they are able to build catalogs of targeted repository content, create matrices in order to identify dependencies and interrelationships between repository artifacts, trace through hierarchies of related items, as well as save, favourite and share views for the benefit of other stakeholders. iServer's Enhanced Views make it very easy to navigate through content in order to derive useful insights. This means users will increase their useful output and support a well-informed decision making process.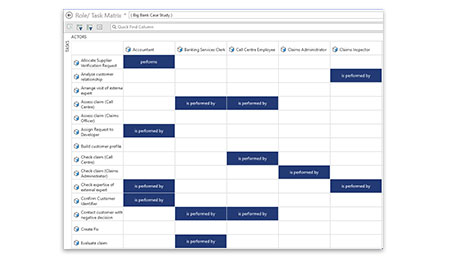 iServer Enhanced Views
Microsoft Visio Modeling Interface
Instead of providing a proprietary diagramming interface, which requires additional training, iServer extends and enhances Microsoft Visio.
iServer turns Visio into a collaborative multi-user tool where diagrams are driven by data stored in the repository. Objects such as applications or processes, and their relationships, can be reused across multiple diagrams, increasing the accuracy of diagrams and reducing time needed for manual updates.
Existing Visio diagrams can be imported into the repository and reused meaning all existing Visio content is available from day one with iServer.
Not only does this save time large amounts of time, it also means the learning curve for new users is minimal because they are already familiar with Visio. iServer diagrams also retain their native Visio file format, so they can easily be shared with colleagues who don't have access to iServer.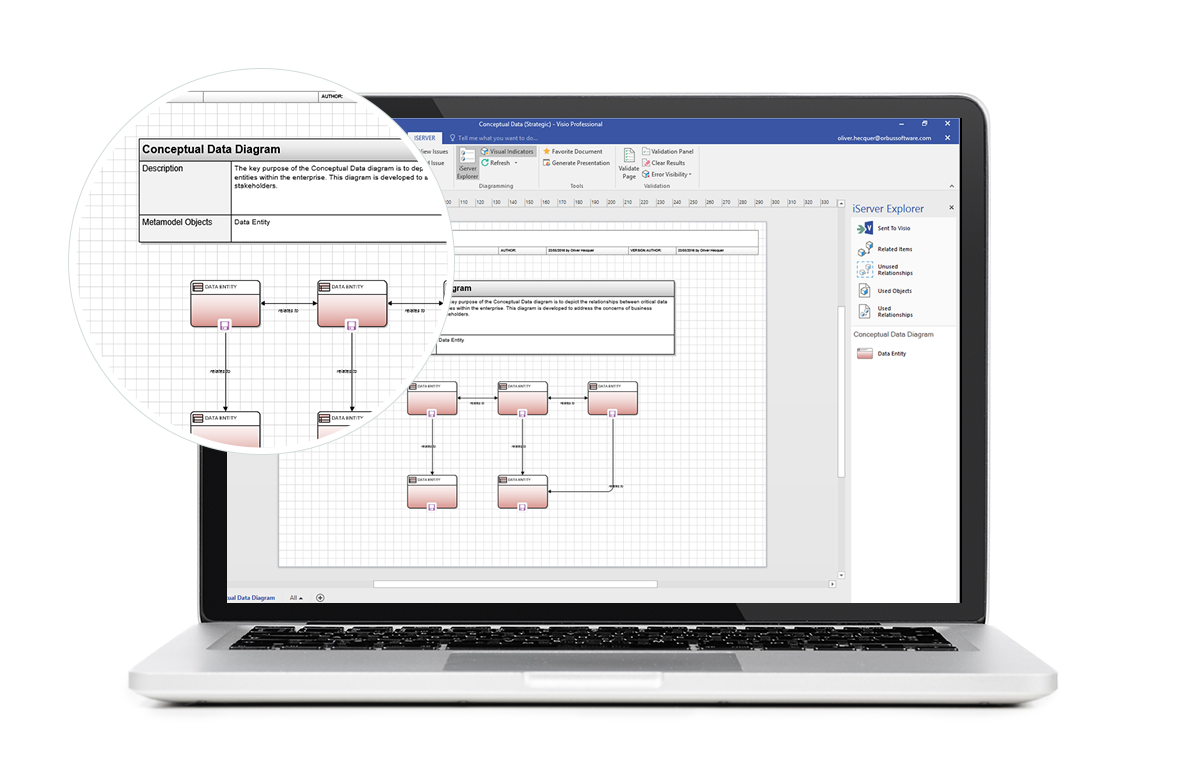 Collaborative modeling in Visio
Object Merge
The Object Merge feature within iServer is very useful because it lets users merge two objects of either the same, or different types within the repository. This also includes their attributes and relationships, where permitted by the meta-model. Architects can make great use of this capability in their work for such tasks as consolidating incorrectly captured information or perform deduplication of content. Therefore, Object Merge stands out as a valuable tool in safeguarding the repository's status as a single source of truth and simplifying users' job.
Extended Content Management Capabilities
Extended Content Management Capabilities is a feature that refers to iServer's ability to handle an extensive range of file types. This enables users to set up and manage a more diverse base of information within the central repository. Apart from the MS Office standard file types, our solution is also compatible with PDFs, videos, images, as well as email, script and zip files. What's more, architects enjoy the added ability of full version management, permission control, and audit history on all file types. This lets them keep all relevant information at hand, irrespective of how diverse it is. By opening up the possibilities of what customers can capture within their architecture, iServer reduces time to action and ensures your teams operate agilely.
Analysis and Decision Making Tools
A range of tools for analysis and decision making are provided, including:
Learning Center
A web-based customer help and learning center is integrated within iServer, including eLearning accreditation courses, online documentation, newsfeed, resources (visio templates, webinars, best practice guides and eBooks), and discussion forums. Click here for more information about the Learning Center.

Ready to take your Business Transformation further?