PRINCE2
Use PRINCE2 Project Management best practices in iServer and deliver standardized and improved project management
Watch the Project Portfolio Management Video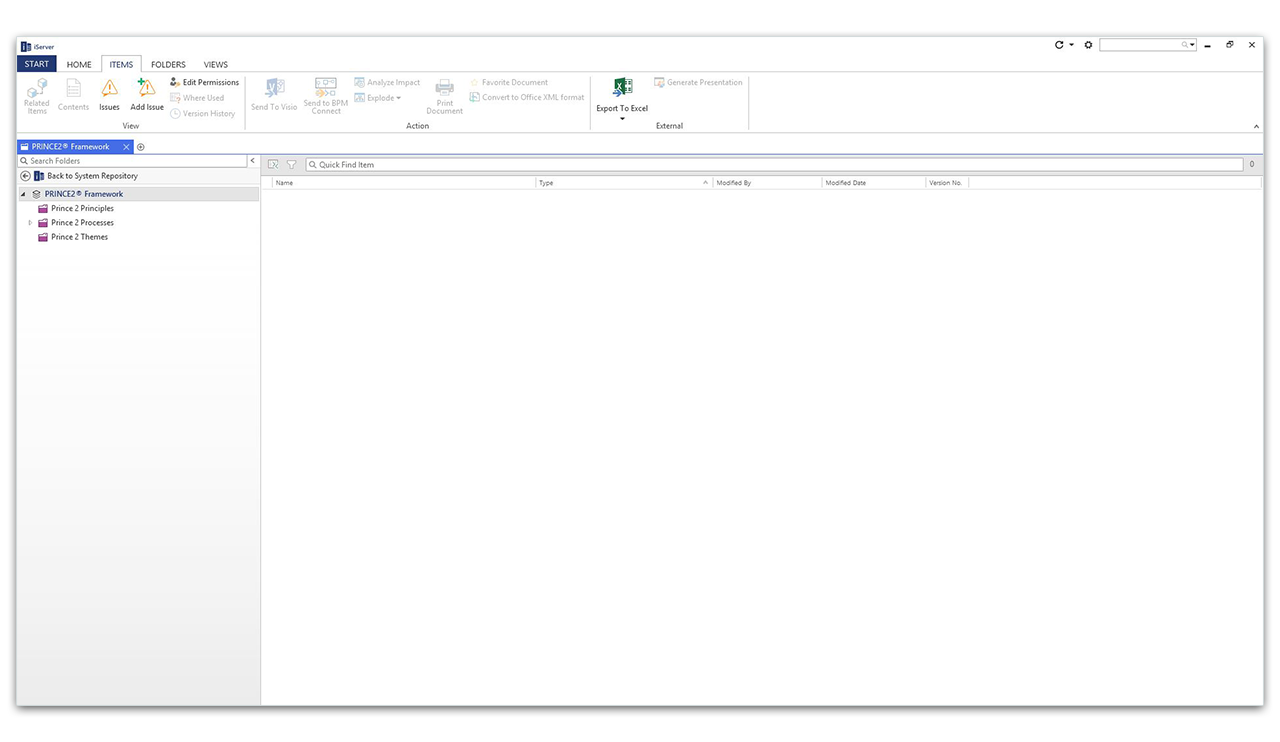 PRINCE2 folder structure - Click to expand
PRINCE2 Themes, Roles and Principles
iServer's support for PRINCE2 includes the complete set of PRINCE2 components including roles involved in each project management phase, and in what capacity they are involved, the project management themes, as well as project management guiding principles.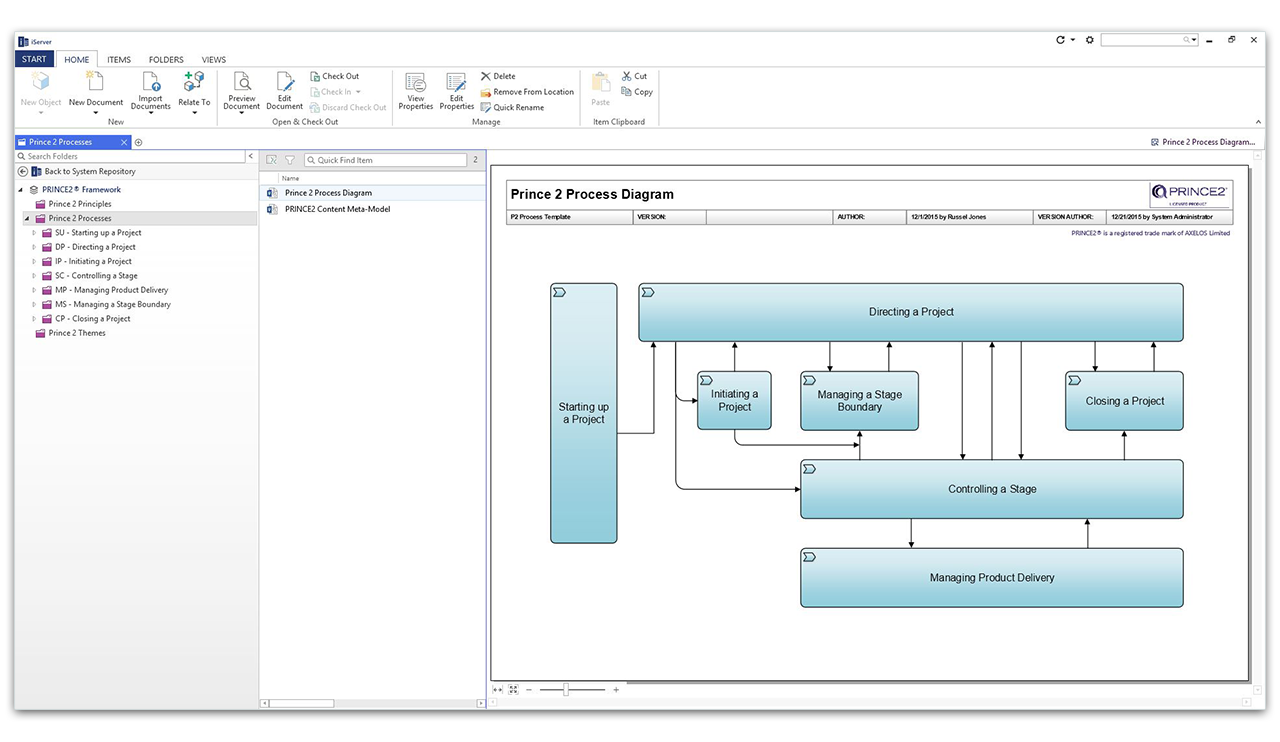 PRINCE 2 process diagram
PRINCE2 Project Management Processes
Built into the iServer project repository are a full set of BPMN 2.0 process diagrams for each of the PRINCE2 project management phases, from Starting a Project through to Managing Product delivery, and closing a project. These diagrams make it easy to follow and align with the standard during day to day project management activities.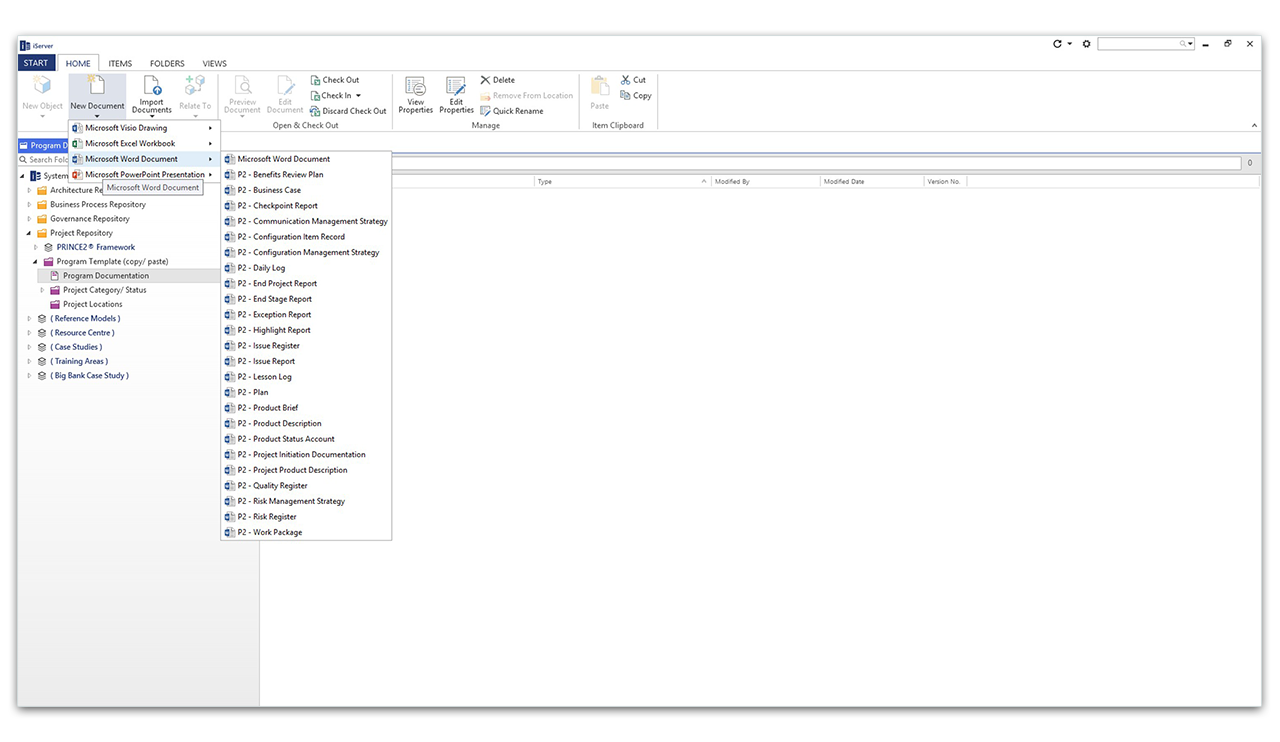 PRINCE2 documentation templates
PRINCE2 Documentation Templates
A complete set of PRINCE2 project document templates and outputs is available, allowing users to create compliant and consistent project documentation in the project repository. These include templates for Project Initiation Documents, Business Cases, Daily Logs, Benefit Review Plans and others.
Read more about iServer's extensive project portfolio management capabilities.
iServer is a PRINCE2 Licensed Product, as recognized by Axelos.
Book a Demonstration
Let us show you what iServer can do for you with a free, personalised demonstration of iServer's capabilities.
Book your Demo
Customer Success Story
Al Ghurair uses iServer as a Business Process repository and Modeling Tool
The Al Ghurair Group is a global conglomerate that operates across several countries. The Group's lines of business include real estate and shopping malls, extrusion, manufacturing and investments. In 2010 Saif Al Ghurair Technology (SAGT) was formed as the IT services arm for the Al Ghurair Group of companies. One of their first initiatives was to re-implement an Oracle ERP system with the objective of providing a competitive advantage in the market.

Our website uses cookies to improve your experience on our site. By using our website you consent to the use of cookies.