PRINCE2 Training
Study PRINCE2 Foundation with an online training course, provided by Good e-Learning, the first of a required two-part PRINCE2 Practitioner qualification for Project Management professionals.

About this e-learning course:
PRINCE2 Foundation is the first of a required two-part PRINCE2 Practitioner qualification for project management professionals. It can be studied on its own or combined with PRINCE2 Practitioner e-learning.
It is essential for individuals who are pursuing a career in a PRINCE2 environment, or for business professionals who would like to incorporate the flexible, process-based approach of the PRINCE2 into their day-to-day work.
By the end of the course you will have a good understanding of the seven principles, themes and processes of PRINCE2. The Good e-Learning PRINCE2 Foundation level course will provide you with everything you need to pass the Foundation level exam.
Watch the Project Portfolio Management Video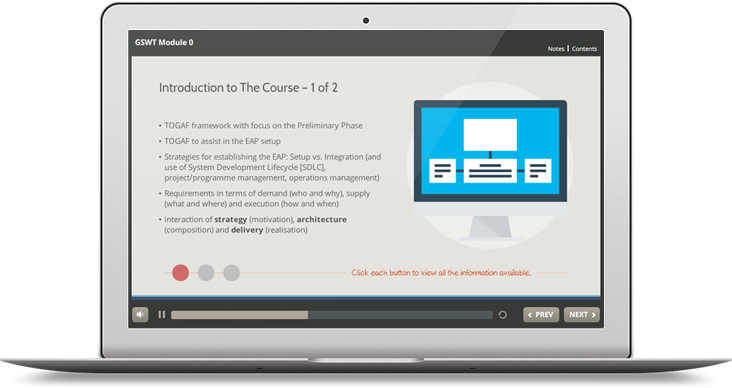 PRINCE2® Foundation (level 1) - Course Overview
The purpose of this PRINCE2 e-learning course is to provide individual students, groups or organizations with a good all-round basis of understanding about the PRINCE2 Method best-practice. After completing this course you will have all you need to be able to sit the PRINCE2 Foundation Certificate in Project Management exam.
The course will also prepare you for project management in your professional life, as a member of a team that is using the PRINCE2 method, or as a member of an organization that has adopted PRINCE2.
The course has been fully accredited by EXIN, who are licensed by AXELOS as an Examination Institute for Project Management.
Why study PRINCE2 Foundation with Good e-Learning?
This is an interactive e-learning course for students who wish to become knowledgeable in the basics of Project Management.
As well as in-depth visual learning content, the online course contains audio and video narratives, quizzes and practice exams.
No previous qualifications or project management experience are required for this course. Before you move onto the second level of certification, PRINCE2 Practitioner, you must have studied for and passed the PRINCE2 Foundation level exam.
Upon enrollment in the course you have access to the following materials:
High quality, media-rich interactive tutorials with audio and video guidance
Learning resources (posters, study cards)
Quizzes, to test your knowledge
2 practice (mock) exams
Glossary of key terms and definitions


Related iServer Product
PRINCE2
PRINCE2 allows users to standardize and improve Project Management by aligning to industry standards. Use iServer's licensed PRINCE2 software for your project management.
Find out more

Ready to take your further?