iServer 2017 User Guide: BPM Connect (Module 13)
About this Resource
iServer BPM Connect allows users to export BPMN 2.0 compliant
MS Visio process diagrams from the iServer repository, as well as
those stored on the local computer, to the standard BPMN 2.0 XML
data format. This XML data can be consumed by other compatible
workflow and business process management suites (BPMS).
BPM Connect is a separately licensed and permission controlled
iServer module.
Already a Member? Sign in here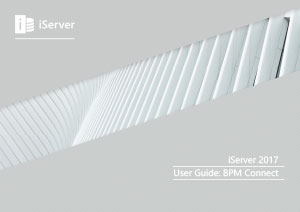 Our website uses cookies to improve your experience on our site. By using our website you consent to the use of cookies.