Security Architecture
Define and manage your organization's security architecture and processes
Book a Demo
What is Security Architecture?
Security architecture is a unified security design that addresses the necessities and potential risks involved in a certain scenario or environment. It also specifies when and where to apply security controls. The design process is generally reproducible.
Watch the Security Architecture Video
Security Architecture
In the last decade security has become more important than processes, technologies or even applications. Poor security means results can fail to external threats and data might be leaked. Indeed, security architecture helps manage all information assets for easier governance and safe operations.
Security defines boundaries that architects should not breach or take into consideration when developing new solutions or choosing a new vendor. Ultimately, extended enterprise architecture is not possible without assessing the risks of outsourcing work and what controls can be put in place to achieve efficient management of these ventures.
iServer Benefits
Preconfigured solutions with SABSA, COBIT and ISO
Flexible metamodel that adapts iServer's environment to any security architecture requirements
Portal for communicating governance procedures, security policies, and risk catalogs to anyone in the organization
Workflow notifications for changes in the Architecture Repository

Shared repository for connecting processes, technologies, applications with risks and controls

Publish reports in Word, Excel, PowerPoint or PDF and share them instantly
iServer Repository
The iServer repository provides a flexible structure for storing and sharing all EA related information. It provides a number of key features for security architecture, including role-based permission for creating, deleting and modifying any content. Furthermore, it includes the ability to generate catalogs and matrices with specific filters at any time.
Architects are able to reuse existing information when modeling Visio or when they need to generate reports for interested stakeholders. The repository also enables information to be exported in Excel, Word and PDF for governance reviews.
Risk and Control Inventories
Catalog all Risks and Controls with the iServer View functionality. Detailed filters can be applied to determine which controls are being used for different risks and how they are applied. This information can be reused in Visio to graphically communicate this to the wider enterprise audience via Portal.
Guidelines
Security guidelines can be developed through Word templates and updated automatically through the iServer Live Document functionality.
Guidelines will be available for everyone to read or export via the Portal and can be linked to specific solutions, projects, and even applications for better governance.
Context Diagrams
Context diagrams are high level descriptions of the current operational flow of an organization. Adding a security layer at this stage provides great value to stakeholders in understanding the critical areas of the enterprise. The entire inventory can be modelled in Visio or reused in existing context diagrams to speed up the process.
Architects can subsequently publish Visio diagrams or use reporting services to generate Word, PPT, or PDF outputs for the organization.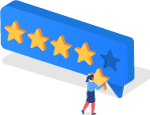 What our Customers are saying
Easy implementation and the comfort of using familiar productivity tools.
Excellent vendor support has made adoption of iServer very easy. Our familiarity with Office productivity tools leveraged by iServer greatly reduces the learning curve.
Solution Architect in the Transport Sector - read the full review
Read Case Study
Seeing is believing
Take a demo to see how we can transform how your enterprise operates