iServer Consultancy
Supporting your business transformation from initial engagement through to maturity
Book a Demo
Global Expertise
Orbus consultants deliver projects across the globe, spanning multiple industries. We offer a number of consultancy services tailored to customer needs, whether it's helping to get a business transformation off the ground, or assisting with the reporting and visualization outputs of mature programs.
Schedule your training
Get in touch to find out more about our Training services
Book your Demo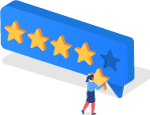 What our Customers are saying
Low learning curve, you can spend time on your capabilities instead of learning a tool.
Intuitive tool with Visio as UI meant we could focus on how to use TOGAF, ArchiMate, BPMN2 etc. in our organization, and not spend time learning a cumbersome tool. The excellent collaboration and publishing features of iServer were also key selling points for us.
Senior Enterprise Architect in the Manufacturing Sector - read the full review
Read Case Study