iServer Consultancy
Supporting your business transformation from initial engagement through to maturity
Book a Demo
iServer Consultancy
Orbus consultants deliver projects across the globe, spanning multiple industries. We offer a number of consultancy services tailored to customer needs, whether it's helping to get a business transformation off the ground, or assisting with the reporting and visualization outputs of mature programs.

iServer Consultancy Flyer
Download the flyer to find out more about iServer's iServer Consultancy service.
Download
Seeing is believing
Take a demo to see how we can transform how your enterprise operates
Book your Demo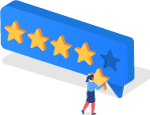 What our Customers are saying
A Quick Start Enterprise Architecture Tool
Great vendor support. Continues improvement of the product and very proactive in implementing the new versions.
Enterprise Architect in the Finance Sector - read the full review
Read Case Study