Installation and Configuration
Ensure a first-class implementation
Book a Demo
Installation and Configuration
We provide configuration of iServer tailored to support your organization's needs and objectives, whether it's for a new implementation, a specific project, or as a consequence of a new initiative and changing requirements. Our configuration and implementation services extend to the entire iServer application and all additional modules developed by Orbus Software.

Metamodel and Repository Configuration
iServer implementations often utilize pre-configured solutions that support industry leading standards such asTOGAF 9.2 and ArchiMate 3. While they provide a useful "out-of-box" starting point, you may want organization-specific tailoring if you have a custom metamodel that you'd like to implement with iServer (developed internally or externally). We'll ensure your iServer metamodel meets your needs for communication, analysis, reporting and view creation, as well as configuring all areas of your server repository set-up.
Read More

Metadata Alignment, Configuration and Data Import
Organizations differ widely in maturity when it comes to data completeness, quality, and structure. In order to advise on, and implement, a data structure that best fits your reporting needs and working processes, we look critically at the data you have and what you are trying to achieve. Additionally, we provide either ongoing or one-off support for data import and system integration.

Role-based Experience
iServer permits the flexible definition of user-profiles that structure a user's experience of the tool. This includes security and access rights, the content that can be created, how that content appears and where different teams work and interact. We help you map out these profiles and ensure iServer's implementation is aligned to the collaboration needs of your business.

Reference Model Implementation
iServer's flexibility makes it easy to use with a range of reference models and frameworks. If it isn't one we provide out-of-box, we'll work with you to integrate and implement it within iServer.

Installation and Configuration Flyer
Download the flyer to find out more about iServer's Installation and Configuration service.
Download
Seeing is believing
Take a demo to see how we can transform how your enterprise operates
Book your Demo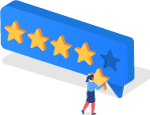 What our Customers are saying
Great platform for supporting your digital transformation initiative
iServer application is a great platform for supporting our digital transformation. We use Archimate / togaf for modeling the EA and BPMN for our processes and very recently we have added UML. All these frameworks are linked and share the same repository. 
Enterprise Architect in the Support Services Sector - read the full review
Read Case Study