Product Training
Bespoke, practical and tailored training
Book a Demo
Product Training
Our consulting team are more than just product experts. Our experience stretches across many common industry standards and use-cases, and we bring unique insights into how these may be applied practically.
iServer Training
In addition to eLearning and the huge array of resources available through the Orbus Ecosystem, we provide expert face-to-face training courses on iServer user and administrator functionality.
Practical "How To" Workshops
To help your team bridge the gap between theory and application, we provide a number of practical "hands-on" workshops.
Seeing is believing
Take a demo to see how we can transform how your enterprise operates
Book your Demo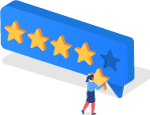 What our Customers are saying
Highly Customisable yet Intuitive EA Platform
We are a technology company who develop an IT system that is used within the UK utilities market. The reason for our wishing to implement iServer was twofold, firstly to maintain and track a detailed model of our product and secondly to allow us to implement a TOGAF based architecture function.
Head of Development in the Mining, Resources and Energy Sector - read the full review
Read Case Study