Course Description
This course provides an overview of Orbus Software's Business and IT transformation tool, iServer, and its use in creating architectural roadmaps for the various enterprise architecture domains. It provides the foundational knowledge required to understand the purpose of architectural roadmaps, and how they can be created with iServer and socialized within organizations.
The course covers understanding the fundamentals of roadmaps, the knowledge required to implement roadmaps in iServer, and architectural domain examples. It concludes by providing guidance on socializing the roadmap with the iServer product suite and the options available for customization.
Each module includes a practical exercise, allowing participants to get 'hands on' in creating the architectural domains within iServer.
Course Info
Course Duration: 1 day
Course Format
In-person Interactive Workshop; collaborative
Pre-Requisites
Basic working knowledge of iServer; Basic Microsoft Visio Skills
Key EA Team Benefits:
Communication and collaboration amongst those contributing to, and consuming, the roadmap
Identify areas of improvement
Identify risks
Identify priorities
Key Business Benefits:
Enable better resource and budget planning
Provide or monitor the strategic direction for other areas of the business to ensure that the organizations strategy is aligned
Reduced risk to investment expenditure by understanding the key areas requiring investment
Widespread understanding across the business, not just the C-level stakeholders
Seeing is believing
Take a demo to see how we can transform how your enterprise operates
Book your Demo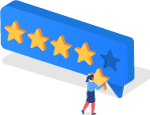 What our Customers are saying
Viso Modelling on Steroids.
We reviewed multiple tools to help operationalise our EA and BPM practices, and despite many tools having deep mature products Orbus was well ahead with their tight integration into the Microsoft suite of tools particularly Visio. Given that we did not need to retrain, or even re-do the majority of our artifacts it was a very quick transition into the tool.
Principal Enterprise Architect in the Construction Sector - read the full review
Read Case Study