Solution Architecture
Deliver technical solution designs to support integration and enable business change
Book a Demo
What is Solution Architecture?
A Solution Architecture is an architectural design of a specific solution, typically applying to a single project. Solution Architecture derives strategic direction from a firm's Enterprise Architecture, but the scope of a solution can span many domains at the tactical level. Solutions translate requirements into functionalities, and the solution architecture is one of the key drivers of business value
Watch the Solution Architecture Video
Solution Architecture
All enterprise architecture initiatives incorporate a solution architecture development. Solution architecture addresses how a single change can disrupt, improve, or broadly speaking change part of the enterprise. It aligns various domains to deliver a single plan of action for the architects, and on strategic level, looks at how specific objects and goals can be realized in the real world and identifying the best path forward.
Key iServer Benefits
Shared repository for assessing all assets that can be used for each solution
Modelling parallel design for the same solution and identifying the best option
Built-in gap reports for quick-and-dirty analysis
Role based access and notifications to improve communication between solution architects and other members of the EA team.
iServer Repository
Initiate, design, and communicate solutions via a unified environment with the iServer repository. It enables the reuse of existing information for new solutions, and architects can develop solution patterns as Word or Visio documents, storing them as reference materials for the wider team. Furthermore, with the iServer repository it's possible to create a sand-box area that compares all solutions before their implementation.
Document Proposals
Architects can document proposals for a solution through Word, sharing them with colleagues and creating drill downs to previous solutions or related assets for a 360 view right from the start.
Design Solutions
iServer provides Visio support and enables architects to design detailed solutions with pre-built templates from TOGAF, Archimate, and UML. Architects can generate dynamic heatmaps to stress the most critical areas and release these documents via the user Portal to all stakeholders, and get feedback and approval before any of these go to implementation phase.
Option Assessment
iServer enables construction of a sandbox environment that can run comparisons of all solutions and provide insight into their pros and cons. Visio can be used for visualizing design and reporting services, and provide gap analysis on the go. The same data can also be pushed into a Matrix view, showing how different systems communicate and store information, as well as how a new solution will differ from those currently in operation.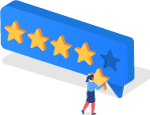 What our Customers are saying
Good experience with Install support and onsite training.
Install support was good and onsite trainer was excellent.
Solution Architect in the Education Sector - read the full review
Read Case Study
Seeing is believing
Take a demo to see how we can transform how your enterprise operates