Strategic Portfolio Management
Gain the critical insight needed to bring your enterprise-wide strategy to life
Book a Demo
Strategic Portfolio Management (SPM) drives operational efficiency and alignment of people, processes, information & technology with business strategy.
SPM
Orbus Software's SPM Solution encompasses a suite of interactive report packs that bring repository data to life, addressing key business questions
Compelling, Comprehensive Reporting
Over 100 visually rich, easily navigable, interactive dashboards are available on demand, answering hundreds of key business questions relevant to a range of stakeholders
Tailored Reporting Across Key Themes
Reports are split across 10 manageable reporting packs: from business strategy or business capability management to application rationalization, technology road-mapping, and lots more.
360 Degree Analysis Across Portfolios – out of the box
Packs work right out of the box – utilizing a best practice Core EA metamodel that lets you hit the ground running and collate relevant data across a range of areas
Dashboards Presented in Microsoft Power BI
iServer's SPM Dashboards are rendered in Microsoft's Power BI, providing the ability to leverage your Repository data in combination with the industry's leading BI Tool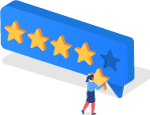 What our Customers are saying
Viso Modelling on Steroids.
We reviewed multiple tools to help operationalise our EA and BPM practices, and despite many tools having deep mature products Orbus was well ahead with their tight integration into the Microsoft suite of tools particularly Visio. Given that we did not need to retrain, or even re-do the majority of our artifacts it was a very quick transition into the tool.
Principal Enterprise Architect in the Construction Sector - read the full review
Read Case Study
Seeing is believing
Take a demo to see how we can transform how your enterprise operates