Data Portfolio Management
Understand what systems are handling data and how access control is enforced.
Book a Demo
Data Portfolio management provides an essential overview of the composition and usage of enterprise data. This provides insight into the risks associated with data, understanding what systems are handling data and how access control is enforced.
iServer's SPM dashboards provides a set of critical reports on areas within data management, from data steward reports, to CRUD matrices and risk management reports.
Benefits of Data Portfolio Management
Quickly and easily navigate and understand your data portfolio
Address questions surrounding the usage and location of confidential or sensitive data
Understand how data is processed by systems and Business Processes
Understand data ownership & stewardship
Get a quick understanding of impacts & dependencies of data with respect to other elements in the architecture, across domains
Data by Location
Understand how PII and other sensitive data is used across geographies
Application & Process CRUD Matrix
Identify which applications and business processes create, read, update and delete data entities
Data Classification Overview
Review a overall analysis of enterprise data, its usage, and breakdown by classification
Data Entity Impact
Visualize how a data entity is used, in terms of dependencies on people, process and technology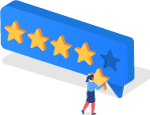 What our Customers are saying
Enabling insight
We have more than 3000 unique iServer Portal users. We have close to 100 authors, 1600 diagrams and 20'000 objects (as of early 2017). iServer is a central repository and Enterprise standard for architecture modeling in our company.
Global Enterprise Architect in the Manufacturing Sector - read the full review
Read Case Study
Seeing is believing
Take a demo to see how we can transform how your enterprise operates
Book your Demo