Project Portfolio Management
Prioritize the IT projects and programs needed to deliver strategic change
Book a Demo
Project Portfolio Management (PPM) initiatives aim to evaluate which projects to pursue, how they contribute to the enterprise strategic goals, and how they fit in with the rest of the portfolio.
iServer's SPM dashboards provide unprecedented insight into the health of your Project Portfolio, enabling you to visualize the project landscape, track portfolio performance against strategic goals, investigate issues and make the right decisions first time.
Benefits of Project Portfolio Management
Quickly understand the portfolio of Projects and key details such as status and timelines
Understand how Projects support Business Capabilities and strategy
See how Project costs break down, and how costs roll-up for different areas of the business
Easily navigate Project Requirements
Understand the impacts & dependencies for Projects with respect to other elements in the architecture, across domains
Project Catalog
Browse the dynamic project catalog and understand key details, such as timelines and ownership
Project Cost overview
Review an overall picture of project costs and the relationship of costs to business strategy
Project Gantt chart
Visualize projects on a dynamic Gantt chart and understand how projects support business capabilities
Project Impact
Visualize the impacts from a particular project on other elements in the architecture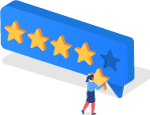 What our Customers are saying
Seamless Architecture Integration
Have been working with Orbus Software since 2008 when we began to develop an enterprise architecture. We have found the company to be responsive to changes in the IT world and willing to work with customers to design solutions that work best for them.
Enterprise Architect in the Support Services Sector - read the full review
Read Case Study
Seeing is believing
Take a demo to see how we can transform how your enterprise operates
Book your Demo