Technology Portfolio Management
Proactively govern and optimize your Technology Portfolio to support the business
Book a Demo
Technology Portfolio Management (TPM) requires 360 degree visibility of the technology stack to review, make decisions and rationalize the Technology Portfolio.
iServer's SPM Solution provides out-of-the-box dashboards which deliver transparency across the technology landscape, letting you analyze quantitative and qualitative metrics and review technology roadmaps.
Benefits of Technology Portfolio Management
Easily navigate and understand the composition of your Technology portfolio
Understand how Applications are supported by technologies, and those threatened by Technology end of life
Quickly understand the impacts & dependencies for technologies with respect to other elements in the architecture, across domains
Visualize Technologies on an interactive, attractive Gantt chart, by internal or vendor lifecycle
Understand the composition of the Technology catalog with respect to enterprise standards
Technology Catalog
Interact with a dynamic view of the technology catalog, with ability to filter by category or vendor
Technology by location
Understand how technologies are distributed across geographies
Technology Impact
View the dependencies on a technology spanning across the architecture
Standards Gantt Chart
Visualize technology standards in use at the enterprise, and their lifecycles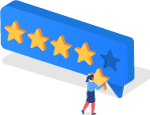 What our Customers are saying
Orbus iServer has the functionality where it counts, and ease where it's expected
We have had great experiences with Orbus. Starting from the pre-sales Q&A, to the contract and purchasing phase, through the install and configure phase, and all the way through training and into support. All of these gates were met with straight forward discussion and agreements an no misunderstandings.
Enterprise Architect in the Education Sector - read the full review
Read Case Study
Seeing is believing
Take a demo to see how we can transform how your enterprise operates
Book your Demo