Enabling Business Transformation
Optimize, enhance and redefine your organization with the iServer software platform for confident business transformation
The Market – Business and IT Transformation Software
Globally recognized as a market leader, Orbus is a provider of enterprise software and associated services which help organizations to transform their Business and IT. In this market, transformation refers to the wide scale change of an enterprise from its operating model to its IT infrastructure. Major drivers of transformation include changing consumer demand, changing technology and changing competition. Transformation represents a significant challenge because it can be expensive and risky but needs to take place so that the organization can address its own internal advancements as well as driving competitiveness through major opportunities in the market. In order to successfully transform, businesses need to invest in software tools which allow them to manage, govern and visualize the increasingly complex Business and IT landscapes, so they can plan the roadmap to achieve change initiatives.
Watch the Market Vision video
The Market Today – Digital Transformation enabled by Collaboration and Integration
Today, the overwhelming trend in the transformation market is towards digitalization or becoming a digital business. Digital Transformation is affecting organizations large and small, in all sectors, as they seek to gain or retain their edge against competitors, using state of the art technologies to enhance productivity, improve customer experience or increase innovation. Major market commentators such as Forrester and Gartner consistently refer to these 'disruptive technologies' such as Cloud, Mobile, Social, Big Data and the Internet of Things, which all represent huge opportunities for businesses to fundamentally change the way they work and compete. Today, to be successful, organizations need an integrated, holistic and unified approach to digital transformation. Technologies must be integrated, information, data and content needs to be connected instead of siloed, processes and communications need to unified and teams must be able to collaborate across divisional and geographic boundaries.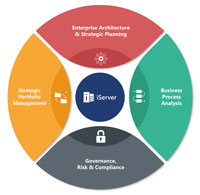 The Four Practices of Business and IT Transformation
The Market Sectors – Business and IT Management Practices and Standards
Whether the goal is digitalization or any other kind of transformation, Orbus Software uniquely identifies 4 core practices that enable organizations of all sizes and complexity to successfully transform their Business and IT. These are Enterprise Architecture, Strategic Portfolio Management, Business Process Analysis and IT Governance, Risk and Compliance. Organizations can also accelerate and improve the chance of successful transformation by aligning these practices with best practice standards and frameworks that have emerged as each discipline has matured. Over time the most commonly recognized and popular standards have become de facto, such as TOGAF® 9, ArchiMate® 2, COBIT 5, ITIL 2011, and BPMN 2.0.
The Market Direction – Converging Management Practices and Standards
Successful transformation is not the result of a single business or IT practice. As the transformation market and its sectors have matured, it has become increasingly clear that the people, processes, structures and technologies involved have become more closely related and dependent. In reality these are not a set of distinct management practices with independent standards, they have been transitioning along a joining path with many components that are overlapping. Over the last decade, this convergence has been evidenced by the growing overlap and integration of de facto standards, such as TOGAF, COBIT and ITIL. Orbus recognize that there is a significant overlap not only across transformation disciplines but also across the industry standards that have evolved, and any such commonality or redundancy is an indication of the need for enterprise-wide reuse and sharing of information. Over the next five years, Orbus sees this convergence continuing, with an increasing need for reuse and sharing across the Business and IT landscape.
Example of overlapping and converging Standards. Source: ISACA, COBIT 5
IT4IT™ – Recognizing the Convergence of Management Practices and Standards
Launched by the Open Group in November 2015, the IT4IT standard focuses on transforming the IT function to deliver as a business or 'managing the business of IT'. Orbus sees IT4IT as a core component of the Business and IT Transformation market because it addresses the range of practices necessary for establishing a high-performing, business-focused IT division. Furthermore, IT4IT has been developed to complement a range of existing frameworks and standards including TOGAF, ArchiMate and ITIL, and formally recognizes the convergence of EA and Strategic Planning, and GRC, ITPM, and PPM. The growing recognition and popularity of the IT4IT standards is a clear indicator that the intersecting nature of this market is a reality.
New Open Group Standard IT4IT. Source: Open Group
The Orbus Vision: A Common Platform for Business and IT Transformation
Orbus Software's vision to 2020 is to remain at the forefront of Business and IT Transformation by continuing to develop and enhance iServer, the only software platform available which supports the integration and convergence of the six related core management practices and standards. As a Microsoft Gold Partner, our unique software offering delivers first class capabilities within an easy-to-use, familiar environment which is the result of extending and enhancing ubiquitous Microsoft Technologies: Visio, Office, SharePoint and SQL Server. Orbus Customers benefit from the most sophisticated and adoptable solution for managing successful enterprise wide transformation at a much lower total cost of ownership (TCO) than the competition. A low TCO is at the core of our goal to deliver the maximum ROI to our customers, which we further ensure with an extensive range of high quality implementation, training and support services.