Application Rationalization
Gain Efficiency, Lower Costs, and Unleash the Potential of Your Application Portfolio
Book a Demo
The need for effective application rationalization is ever increasing, motivated by the unrelenting pace of change, an operational dependence on technology, and the associated spiraling costs. The number, nature and cost of applications should all be focused around the business value they offer. But where do you start?
Why you need this
Ready for a Demonstration?
Watch specialized demonstration videos for our solutions
Complex Landscape

Often the full application portfolio is unknown, with information residing in a complex landscape of systems, people and artifacts.

Unwieldy Portfolio

Even if the portfolio is known, ongoing management is laborious and error prone, relying on the maintenance of Excel and other MS Office documents. Collaboration and communication is rendered extremely difficult.

Time Consuming and Costly Assessment

Gathering vital data from application owners to understand how rationalization impacts and informs decision making is vital, but often tedious and reliant on expensive consultancy to conduct interviews and assessments.

Buried Information

Key information pertinent to the rationalization effort may be stored in disparate systems, such as CMDBs, making it difficult to collate.

Uncertain Methodology

Organizations attempt to devise methodologies for assessing or scrutinizing the portfolio, or for structuring application portfolio data without knowledge of industry best practices or methods. Often, this results in a directionless or drawn out project.

Lack of Visibility

Teams undertaking rationalization often lack the tools and techniques required to efficiently and effectively visualize application data.
Application Rationalization
Download now to get started on improving efficiency, saving money, and delivering better IT management
Download now
Application Rationalization in Four Weeks
Inputs
Kicking off an application rationalization project will require input, such as:
The application catalog (whole or in fragments).
Artifacts linking application to business capabilities, technologies, and related concepts.
Lists of application owners, vendors, locations and meta-data.
Scoring questionnaires and worksheets.
Establish Goals and Centralize Data
Establish your goals and parameters for this application rationalization initiative e.g. functional duplication; vendor consolidation.
Gather and load available application data into the iServer repository, centralizing the disparate data sources. Predefined data fields structure and guide data towards best-practice analysis.

Assess and Augment Data
Start to build a comprehensive picture of impacts by easily linking applications to key enterprise concepts, such as business capabilities, all from within the iServer repository.
Use predefined scoring methods to survey application owners or other SMEs throughout the business, filling in gaps and gathering key information on applications.
Collate all information seamlessly and dynamically in the iServer repository.

Visualize and Analyze Your Application Portfolio
Bring your application portfolio to life through powerful predefined visualizations and reports.
Quickly and clearly visualize your portfolio according to the key criteria identified at the start of the initiative, and use industry best-practice methods, such as TIME analysis.
Assess portfolio impacts for rationalization candidates, and aggregate possible savings for review.

Consider Rationalization Results and Present Roadmap
Present a summary of results from the rationalization initiative, in terms of potential savings identified and other positive impacts, such as elimination of redundancy.
Note considerations when settling on a list of applications to rationalize.
Review and present the application roadmap, showing how and when applications will be phased in and out over the next 1-3 years, utilizing Orbus Software's predefined reports.

Business Outcomes
By following these steps, at the end of this typical four-week application rationalization project, you should expect:
A centrally managed and governed application portfolio.
Powerful visuals which answer key business questions for the application portfolio, concerning business and technology fit, costs, functional duplication, and technology dependence.
Identification of rationalization candidates, including the reduction in total cost of ownership, and/or technology risk.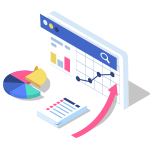 Application Rationalization Business Case
Download a business case outlining the benefits of the Application Rationalization tool.
Get your copy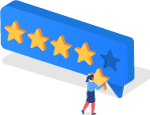 What our Customers are saying
Smooth Implementation, Great Support and user friendly interfaces
Use of Global and multiple frameworks like TOGAF, BPMN2, UML and PPM. Easy adoption by modellers due to Microsoft Visio used as modelling tool. Easy user business adoption due to Browser Based Portal.
Technology Architect in the Support Services Sector - read the full review
Read Case Study
Seeing is believing
Take a demo to see how we can transform how your enterprise operates