Application and Technology Roadmapping
Guide Your Business Through the Digital Revolution
Book a Demo
At the heart of enterprise architecture is the notion of informing and guiding decision-making within the organization. In an era of digital uncertainty this has never been more important. Roadmaps communicate and influence change, earning buy-in from key stakeholders and providing a plan of action to achieve particular goals, or in this case, implement new applications and technology solutions.
Why you need this
Ready for a Demonstration?
Watch specialized demonstration videos for our solutions
Common
Challenges
As organization's understand their short and long-term technical targets, they can use a roadmap to determine which technologies to pursue, as well as to plan and timeline the implementation of new systems. Major obstacles to successful roadmapping include:
Dirty Data

Data proves to be inaccurate and irrelevant for the initiative; lifecycle dates and understanding which apps and techs will replace their own predecessor are unclear and hard to establish.

Unclear Target States

Target states are not obvious and subject to change, making it impossible to run assessments and bridge the gap from the current state. Often establishing the target state requires a significant investment of time, effort and resources.

Poorly Planned Infrastructure

Overarching infrastructure is badly planned and implemented in a haphazard fashion, muddying the waters when trying to establish a clear roadmap.

Complex Landscapes

The vast array of complex technologies, which are often hidden or unknown, render the roadmapping project extremely labour intensive when trying to establish the current state.
Application and Technology Roadmapping
Technology Roadmaps can chart a course forward in uncertain times, but only if you avoid these 6 mistakes. Download to find out how
Download now
Application and Technology Roadmapping in Four Weeks
Inputs
Effective application and technology roadmapping requires the following information:
Application Catalog – current state
Application

App replaced by app
Physical to logical

Internal lifecycle phase/dates
Technology Catalog – current state
Technology

Technology replaced by technology
Physical to logical

Lifecycle status
Internal lifecycle phase/dates
An understanding of the target architecture for both the application and technology landscape.
A gap analysis report to determine what is needed to achieve target state.
Establish Goals and Gather Information
Ensuring input and participation from different stakeholders, such as Asset Managers, Technology and Infrastructure Architects and Strategic Business Units
Set the scope and boundaries are set; proposed roadmap should support the company vision to ensure that the strategic alignment outcome is met
Import the Application and Technology Catalogue (this will be the product focus of the roadmap – the "what" in the roadmap).
Gather lifecycle dates and phases

Identify Technical Components
Specify the major technology areas, prioritizing specific initiatives aligned to strategic goals themes
Create relationships between physical technology components and logical technology components, utilizing the TOGAF Technical Reference Model
Create relationships between physical application components and logical application components; again ensure best practice by using the Technical Reference Model for guidance

Determine the Target State
Identify the technology and application alternatives, and the timelines for replacing existing systems
Create relationships to show which technologies will be replaced, showing a view of all the associated physical and logical components
Create relationships to show which applications are to be replaced

Execution
Provision the Application and Technology Roadmap Power BI Reports. 
Utilize Visio templates and use Model Explorer to reuse the data within diagrams. 
Embed the Orbus Hub in Teams/SharePoint/Portal.

Business Outcomes
By following this process, at the end of the four-week period, the business will be able to:
Align technology with strategy.

Roadmaps will have corporate strategies at their foundation which are not IT specific. It will help IT leadership become more strategic when making investment decisions or managing technology projects.

Reduce application and technology risk.

Address any current IT issues. Determine whether the organization is spending too much or too little on any given initiative.

Highlight potential future IT issues.

Improved IT security – invest in the right places.

Improve stakeholder engagement.

Roadmaps can be used as a tool to engage with stakeholders and gain further buy-in.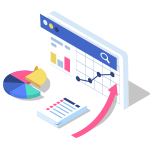 Application and Technology Roadmapping Business Case
Download a business case outlining the benefits of the Application and Technology Roadmapping tool.
Get your copy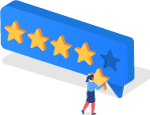 What our Customers are saying
Easy to use, right sized EA modeling
Good professional services, solid software support
Director of Enterprise Architecture in the Support Services Sector - read the full review
Read Case Study
Seeing is believing
Take a demo to see how we can transform how your enterprise operates