Business Capability Management
Reimagine Your Strategic Goals
Book a Demo
Where should we focus and invest resources? It is a seemingly eternal question without an obvious answer. Business capability management creates a structured capability model (or models) that represents the enterprise at an abstract level, breaking down its different capacities. Effectively implemented, it enables organizations to align strategy, goals people, process, information and technology.
Why you need this
Ready for a Demonstration?
Watch specialized demonstration videos for our solutions
Isolated Data Sources

Business capability models are often stored in Visio, Excel or PowerPoint files as disparate artifacts with no referential integrity.

Disconnected Teams

Collaboration is rendered difficult and involves manual handovers when linking capabilities to other elements, such as applications and catalogs.

Manual Analysis

Capability impact analysis is a manual and error prone task, reliant on static underlying data.

Inaccurate, Costly Expensive Assessments

Capability scoring assessments are labor-intensive and time consuming exercises. Organizations often rely on expensive consultancies to undertake capability assessments and supply underlying methodologies.

Inappropriate Tooling

Organizations lack effective and intuitive tools to dynamically link, analyze and visualize the capability landscape, which in turn hinders decision making and communication.
Business Capability Management
Discover how to deliver business outcomes with a proactive, forward-thinking approach to Business Capabilities
Download now
Business Capability Management in Four Weeks
Inputs
Undertaking business capability management initiatives involves the following input:
A business capability map or multiple maps (typically in a hierarchy of three or more levels) – in Excel or PowerPoint, or Visio.
Metadata, such as capability maturity scores.
Linkages between capabilities and applications, processes, or business strategy elements.
Business roadmaps featuring capabilities.
Establish Goals; Identify and Load Capability Data
Establish the goals and scope for the next four weeks.
Gather available inputs and prepare these for consolidation. Decide which information to focus on, and prepare your capability hierarchy if this is not already fully defined.
Once a suitable starting point has been established, this capability data can be quickly migrated into the iServer repository, including any existing capability maps.

Build on Capability Data; Assess and Link Capabilities
With your capability model already loaded as live reusable data within the iServer repository, focus on building, assessing and linking capabilities to other concepts.
If capabilities have only been defined a certain level, you may wish to start to further "flesh out" the model.
If the organization's capability model is already mature, undertake a capability health assessment, deploying a questionnaire to be completed by stakeholders.
Link business capabilities to important concepts from other enterprise portfolios, such as applications, business processes, or projects, enabling traceability from an understanding of "what" the business does, to "how" it is achieved.
At this point, the fumbling in Excel and PowerPoint is over. Data management, model definition and concept linking is streamlined and enhanced by working with your live data in the iServer repository.

Visualize and Analyze Capabilities
Create compelling visuals to showcase your capability model, whether diagrammatically in Microsoft Visio (using live iServer data) or in other formats. Extend a standard capability map with dynamic heat mapping in just a few clicks.
Analyze business capabilities and their impacts (top down or bottom up) using powerful out of the box reports and dashboards designed to deliver answers to key business questions.
Develop a business roadmap, showing how capabilities link to strategic projects, goals and objectives.

Communicate and socialize
Establish a communication strategy and select key reports or artifacts to socialize to business stakeholders and leadership.
Present the newly consolidated and centralized business capability model highlighting critical linkages, impacts, or scorings.

Business Outcomes
Through establishing goals, building capability data, running analysis and communicating with the business, you should achieve:
A centrally managed and governed business capability model.
Powerful visuals addressing key business questions for the business capability management according to meaningful criteria, capability health, and technology impact.
A view of how business strategy is linked to business capabilities and ability to communicate this to stakeholders.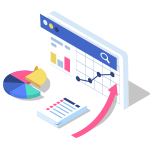 Business Capability Management Business Case
Download a business case outlining the benefits of the Business Capability Management tool.
Get your copy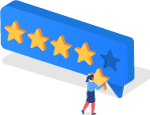 What our Customers are saying
Viso Modelling on Steroids.
We reviewed multiple tools to help operationalise our EA and BPM practices, and despite many tools having deep mature products Orbus was well ahead with their tight integration into the Microsoft suite of tools particularly Visio. Given that we did not need to retrain, or even re-do the majority of our artifacts it was a very quick transition into the tool.
Principal Enterprise Architect in the Construction Sector - read the full review
Read Case Study
Seeing is believing
Take a demo to see how we can transform how your enterprise operates