Hello!
We at Orbus are excited to announce the next major release of our market leading iServer Business and IT Transformation platform. In iServer 2019, the team has worked hard to deliver many new capabilities and features which we think are going to be very useful in supporting your EA, SPM and Transformation initiatives.
We have had some great ideas come through on our Ecosystem's new customer ideation platform, Ideas. Here are some quick stats on this release:
- 96 New features
- 45 Customer requested features delivered
- 37 Performance, usability and stability enhancements
Some of the iServer highlights we think you will be most interested in include the enhanced Graphical Related Items capability, allowing you to drill-down to multiple levels of related items, filter content, change layouts and export attractive graphics for analyzing the impact of change.
Fig 1 - iServer 2019's Graphical Related Items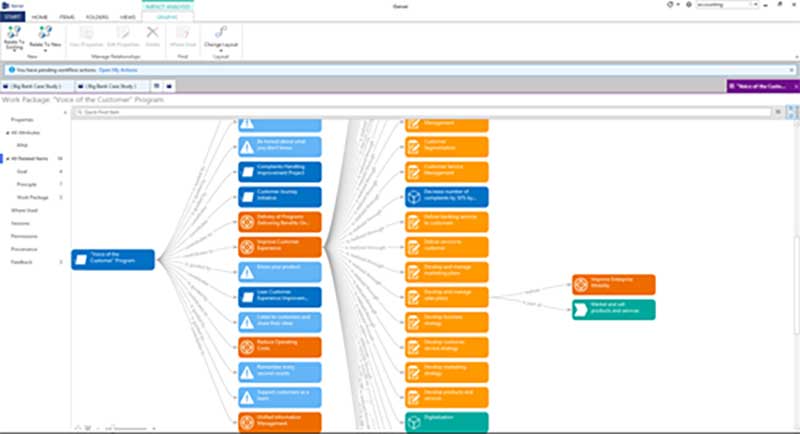 Click to Enlarge
An all-new repository and metadata REST API allows you to build integrations with your iServer repository for synchronizing data between other third party applications such as project management or other operational systems.
iServer 2019 also does not need Microsoft Visio installed as a pre-requisite, meaning it can be used independently of the Visio diagramming environment making it better aligned for portfolio management use cases.
Lastly, the iServer metamodel is now easier than ever to manage and update. The way in which metamodel components are defined and managed is more intuitive and flexible than ever, meaning it can evolve with your organization and adapt without the need of assistance from Orbus.
On the web Portal side, we have spent time making the interface more intuitive to cater for use by a wider stakeholder audience, with little to no training needed. It is now also possible to completely customize the Portal and we have improved the collaboration capabilities.
An all new feedback capability in Portal offers email integration and attachment support, as well as enhances Portal's collaborative work management capabilities. The Portal customization section available to administrators allows you to change the 'look and feel' of Portal including logo's, colors and branding. This, coupled with the new Portal Embedded mode, makes it possible to share repository content with the wider organization using a completely familiar interface, embedded within your existing intranet site.
Portal Contributors now also have the ability to curate repository content from the Portal; updating metadata and initiating or actioning content review and approval workflows.
Please get in touch with your account manager or book a demo with an Orbus sales representative if you would like to see these or any other new features in action!