95%
Average Service
Level Ratings
25%
Annual Customer
Growth
Trusted by over 500 companies worldwide, including: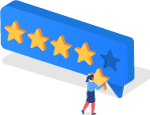 What our Customers are saying
Steep learning curve for immature EA programs, but a great tool if you invest the time
Great pre-sales review of the product and functionality. Installation was simple and straightforward. Included training modules were helpful. Ramp up time for basic functionality was short, but more complex features and functions took a while to figure out, even with instructor-led training. Use of Office tools made the learning curve a little easier to manage.
Security Architect in the Healthcare Sector - read the full review
Read Case Study