ORBUSINFINITY PLATFORM CAPABILITIES
Specialist Tooling Capabilities for Enterprise Architecture Teams
OrbusInfinity provides Architects, EA Teams and their stakeholders with a robust toolset enabling them deliver value to the business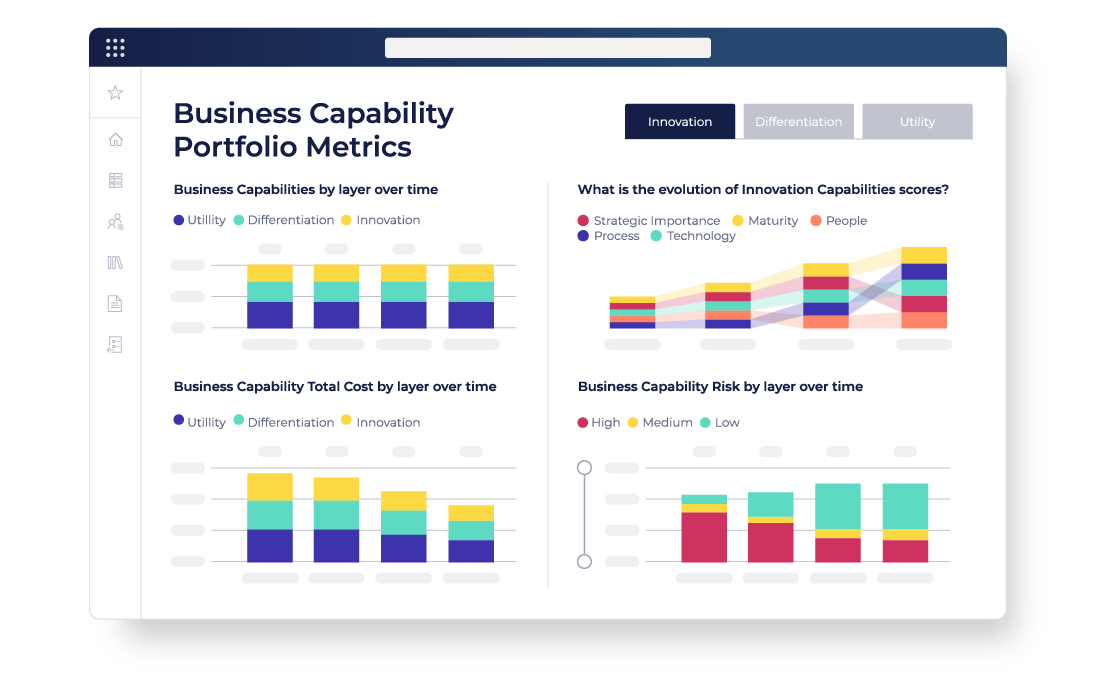 ENTERPRISE GRADE CAPABILITIES
Leverage enterprise grade capabilities in the cloud
Establish a single source of truth for your enterprise landscapes with assets spanning business, process, information, application, technology and risk domains. Store assets as rich objects with metadata and relationships to help surface dependencies across business units and domains, understand impacts and risks of change, and effectively assess, prioritize and plan your transformation initiatives. See it live
Leverage native integration with SharePoint document library to easily store and navigate documents and models directly using repository objects and relationships. Utilize SharePoint's familiar interfaces and best-in-class intranet capabilities for effective communication and document management. See it live
Adopt industry standard notations or enable a framework of choice to accelerate time to value and benefit from out-of-the-box metamodel definition with pre-configured object types, relationship types, attributes, document templates, and relevant content to map to your enterprise. See it live
Adopt industry standard notations or enable a framework of choice to accelerate time to value and benefit from out-of-the-box metamodel definition with pre-configured object types, relationship types, attributes, document templates, and relevant content to map to your enterprise. See it live
Enrich your repository data using our REST API and pre-built connectors with a range of common 3rd party systems. Engage business stakeholders in the tools they use every day, including SharePoint, Teams and Power BI and Jira, and set up data exchange with your other core systems. See it live
Maximize your modeling effectiveness with globally familiar Visio GUI, extended to support drag and drop re-use of objects, diagramming assistance for consistency of models, and the market's widest range of out-of-the-box diagram templates to address viewpoints for the large variety of stakeholders across your enterprise portfolio landscape. See it live
Surface repository content with your stakeholders through a fully customizable SharePoint portal and enhanced document viewer. Set up navigation pathways aligned to different target audiences enabling anyone with SharePoint access to view, navigate and drill down between catalogs and details information to address their specific concerns. See it live
Collaboration and Contribution Tools Collaborate with a large range of stakeholders on the platforms they know and trust, maximizing their contribution of information to enrich and validate repository content. Enable Business users to add repository information via web parts, intake forms and surveys in SharePoint and adaptive cards in Teams channels and group chats, and run review and approval workflows via Power Automate.
Decision Analysis ToolsAddress multiple stakeholder concerns with a broad range of views such as list, matrix, landscape and traceability views. Auto-generate graphical visualizations of repository data to help understand relationships and dependencies across your organization and assess the impact of change across different enterprise landscapes.
Enable decision-makers to make faster, more informed decisions with out-of-the-box BI dashboards. Leverage pre-built report packs in Power BI providing an array of dashboards addressing key challenges across your business, application, technology, data and project portfolios.
Define and manage user access to the platform with Azure Active Directory where users are imported as individuals or groups and assigned roles. Define access to features and repository content within the platform via roles and permissions, including CRUD permission on each object and relationship type.
Est. 2004 and trusted by over 600 brands globally
ORBUFINITY PRODUCT ROADMAP
What's new and what's next
Find our product exclusives and what to expect next on our innovation portal

You can comment, share and get excited about what's to come on the roadmap as well as gain early access to some of the new features that will help you on your EA, BPA journey.

A 'Leader' in the Gartner Magic Quadrant for EA Tools
Named a Customer's Choice with 72% of reviews being 5 stars and 25% being 4 stars
A leader in the Forrester Wave EAMS report
Orbus Software is named a leader in EAM and achieves the highest possible scores in 10 criteria