In the first part of this blog, we discussed the history of the concept of sustainability and its links to the modern-day sustainable development goals and Social Progress Index.
To continue this theme, we now need to address the ability of global governments to address a myriad of underlying targets which underpin the social development goals. In the first blog I provided an example of the mappings between the SDGs and the SPI structured reporting, this however is only applicable for discussions with high-level stakeholders. When we address the targets however we now move from seventeen goals to one hundred and sixty-nine targets and the distribution of the targets encompass a greater number of government departments which requires co-ordinated communication strategies to be established to ensure cohesive delivery.
Progress reporting will therefore become a more complex undertaking, and architects will face data aggregation challenges to provide on demand reports to stakeholders at any given point in the delivery cycle. The ability of global governments to co-ordinate regulatory reporting cycles without the assistance of organizations within a given industry classification will be severely limited without requisite policies, and reporting standards. These difficulties are increased when voluntary national reviews are produced as evidence of progress on a particular goal within the SDGs. The example below depicts how the SDG goals can be potentially linked to UK Government departments to assess the impact of the 17 goals and function as a catalyst for budget allocation during SDG planning sessions at a country level.
The only problem which still remains is that the underlying targets are not necessarily linked to the same governmental department and will require a firm understanding of accountability and responsibility to be achieved during planning. An example of this scenario can be found in the goal 3 targets, goal 3 is mapped to the department for health and social care but target 3.6 (halve the number of global deaths and injuries from road traffic accidents) would require inputs from the department for transport to complete goal 3 reporting. Inter-dependencies like this will require an agreed upon communication strategy between government departments to ensure alignment across all reporting platforms. The diagrams below depict this scenario between the UK Government and the SDG Goals.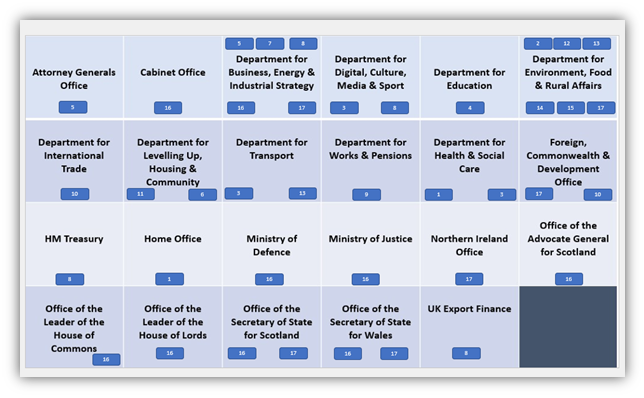 Diagram 1 – Goals to Government Departments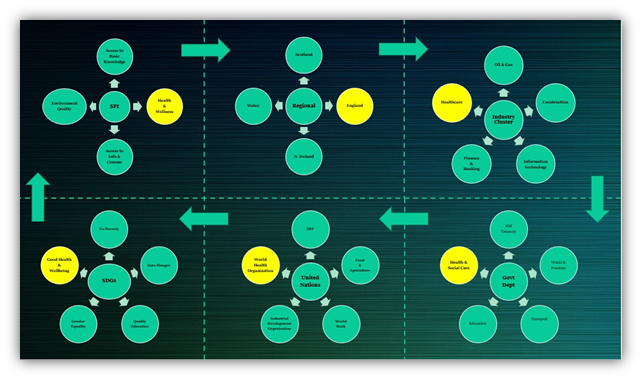 Diagram 2 – Reporting Continuum
The diagrams above depict examples of how architects can map SDG goals to UK Government departments (diagram 1) and in diagram 2 we visualize the reporting interfaces between regional, country, and global entities to generate a progressive continuum for a given goal.
When combined with the agreed communication strategy, it is then possible for architects to build a roadmap and keep all levels of the reporting structure abreast of developments. It will of course necessitate that all relevant data be housed in a tool which facilitates cross mappings of entities and allows for attribute annotation to enable historical oversight at all levels of the reporting cycle.
The ability to generate the correct level of detail for each entity will of course be dependant on Government and United Nations requirements, and policy makers at all levels will be beholden to all parties to generate these documents as guidance to details and formatting requirements for ease of accumulating the rollup of reports. The organizations that can produce the correct level of reporting as and when required will place themselves in a distinct competitive advantage within their given industry.