Modern-day CEOs are facing a deluge of disruptive influences from both within the company and externally, from regulators, and disruptive parties with spurious agendas, to pandemics, and climate change. Answering global governmental calls for assistance with sustainable development goals is therefore an addition that most boards are ill-equipped to address at the present moment.
In addition, workers are increasingly voicing their displeasure at top-down command structures and expect to be included in organizations planning activities. This level of co-creation is in itself problematic and time consuming in an environment which is required to shape shift at an ever-increasing pace. Job seekers are to a large degree searching for companies whose purpose matches their own, and employed personnel are resigning to align with alternate companies for the same reasons.
It is therefore clear that a well-defined purpose statement will be critical to attract the correct caliber personnel and at the same time retain existing skills to meet the ever-increasing level of demands being placed on organizations across the globe.
In my previous two blogs I have addressed how the United Nations and Global Governments can potentially interact to provide the required guidance in pursuit of the sustainable development goals (SDG). This however is just a depiction of how outside-outside organizations build collaborative structures and thus far in our journey these structures have had little to no impact on any organizations in a given country.
Architects within a given organization will need to keep track of developments at an international, continental, or country level to ensure that the strategies, tactics, goals, and objectives reflect the organizational purpose as a contributing participant to SDG delivery in their relevant country.
During the collaboration with strategy & planning the architecture team will use these 4 models below to provide insights as to the overall impact of a given purpose on strategy to execution activities.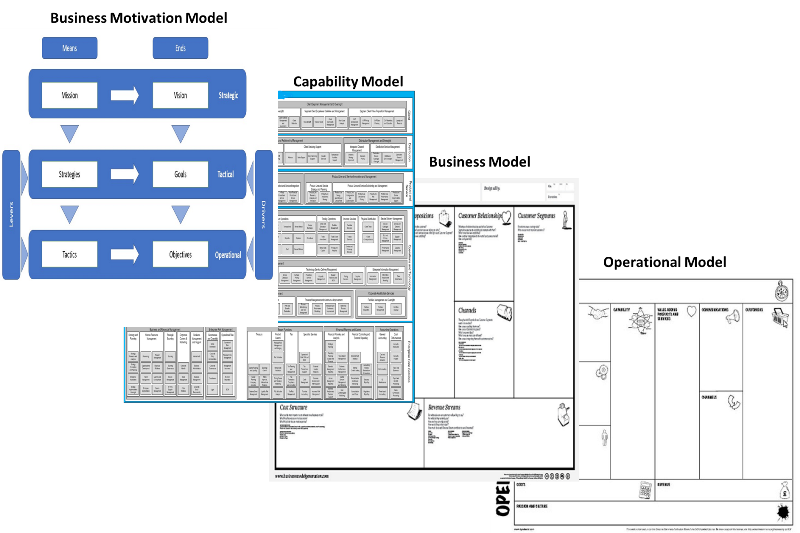 The variety of opinions between global governments as to how to approach SDGs is not assisting organizations to generate a north star for their chosen SDG contribution during strategic planning. Multi-nationals will be required to adhere to a myriad of regulations in each country where they are situated, and industry standards can become an additional boon in formulating an all-encompassing strategy. Truly little guidance has been offered from either the UNDP or local governments as to how organizations can approach the subject matter, and organizations will need to address the value proposition for all stakeholders as a core principle.
Firstly, the business motivational model (BMM) from the Object Management Group (OMG) is a model which guides organizations as to the components required to capture decisions about the organization's reaction to change and the rationale for making such decisions. The intent of the model is to make it shareable and increase organizational clarity and improve decision-making. As the old saying goes "it provides a means to an end".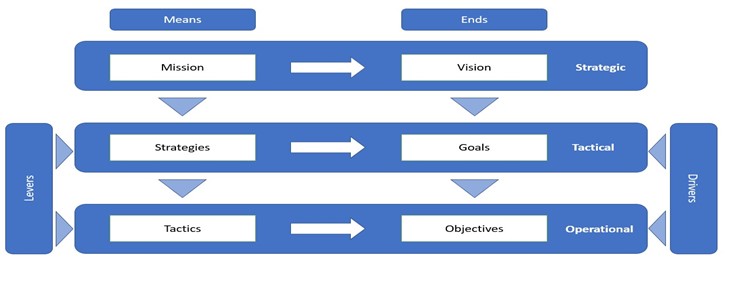 Business Motivational Model – Object Management Group
To ensure clarity is achieved between all parties we must define the reasoning behind each block in the diagram above, as consensus amongst all role players is an astute approach to avoiding differences of opinion later in the process.
Strategic Layer

Mission statement – Describes what an organization does currently, and its reason for existence.
Vision Statement – Describes the sought-after future state of the organization.

For use in our sustainability example, the mission statement may be replaced by a purpose statement and linked to a single or multiple SDGs.

Tactical Layer

Strategies – Describes the "where to play" and "how to play" to close the purpose to vision gap.
Goals – Describes the long-term outcomes required by the organization

Operational Level

Tactics – Describes the initiatives/programs required to meet the organizational goals.
Objectives – Describes the targets and timelines applicable to each initiative and formulates milestones which serve as governance criteria during change management activities.
Now that we know what the organization's purpose for being is, where it wants to be in the future, what markets it wants to be present in, and how they want to play (market maker, market participant, market disrupter) what goals the organization is setting itself (profitability, market share, transaction volumes) and what tactics will be deployed to achieve the goals (skills hiring, process automation, data analytics (AI, ML), ubiquitous channel access (app, mobile, web, branch)) and what timelines have been settled upon.
The completion of the motivational model will provide the information required to assess the maturity of the organization's capabilities to meet the future requirements of the organization, but we will address this in the next blog.