Global governments are struggling to keep up with the delivery of sustainable development goals (SDGs), which were agreed upon in 2012 at the United Nations Conference on Sustainable Development, and subsequently adopted by United Nations members in 2015 as a "shared blueprint for peace and prosperity for people and the planet, now and into the future".
In an attempt to contribute to their countries' efforts, organizations across the globe have elevated this one question: "What is a definition of a successful sustainable business, and what does it look like?"
The answer to this question, however, is not as easy as one may think. The first issue was that the development goals were not agreed upon as a mandatory requirement and as such regulatory guidance was forthcoming in a plethora of ways and formats.
Investors, companies, policymakers, regulators, NGOs, and civil society use corporate sustainability reporting to inform a wide range of decisions, and a dynamic ecosystem of organizations has evolved to meet these various information needs.
The facilitation of comparable, consistent, and reliable sustainability-related information provides invaluable insights for governmental departments and regulators, and using this information, data providers and rating agencies can build tools, analytics, and resources for use by the investor communities.
One such organization that provides sustainability information is the Social Progress Imperative (SPI) which provides SDG goals and target scoring per country. The information supplied is reflected in three main dimensions:
Basic Human Needs
Foundations of Wellbeing
Opportunity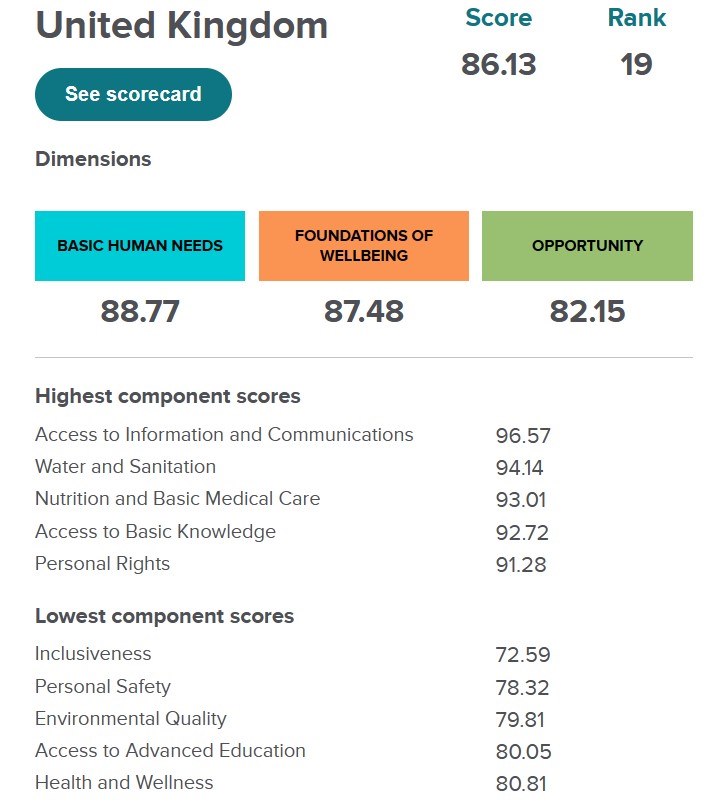 These dimensions are in turn broken down into sub-dimensions and scored as per information provided by global governments as part of voluntary national reviews. Scores are aggregated for each dimension and a total score plus global ranking is allocated per country.
It has become apparent that GDP is no longer a benchmark to measure social progress. Recent reporting has leveled some diverse results where countries with large GDP results have registered low to medium social progress whilst some countries with low GDP have registered larger improvements in social progress.
Contributors from in-country organizations can utilize SPI reporting to pinpoint areas where they may be able to contribute to accelerated progress within an area that is currently falling behind the delivery schedule. To ensure a firm understanding of the task at hand is prevalent in the organization, business architects should communicate synergies between SDG/ESG reporting and SPI contributions for communication and governance purposes.
As can be seen from the scorecard example "inclusiveness" has received the lowest SPI score for the UK and is made up of the following SDGs.
Gender Equality. (SDG 5)
Reduced Inequalities. (SDG 10)
Sustainable Cities and Communities. (SDG 11)
Peace, Justice and Strong Institutions. (SDG 16)
Inclusiveness is listed in the opportunity dimension of the SPI and is a contributing factor as to why the UK has only achieved 19th place in the global rankings.
Synergies between SPI and ESG/SDG initiatives
By identifying the synergies between diverse requirements, organizations can rationalize the efforts placed on scarce resources to meet a plethora of reporting requirements for both internal and external stakeholders. There is not a one-on-one relationship between these frameworks and a number of SDGs are represented in various SPI dimensions.
The creation of a responsible, accountable, consulted, and informed (RACI) matrix will ensure that collaboration with all relevant stakeholders are addressed in a collective manner and that reporting is generated as a joint initiative to ensure all contributions are recognized and signed off prior to publication.
The Chief Sustainability Officer and the Chief Financial Officer in your organization can then utilize this reporting to tailor their contribution to the year-end financials for stock exchange investors, shareholders, and regulatory reporting.
Recent greenwashing fines have been imposed on organizations and the resultant reputational risk attached to such fines has indicated that regulators and investors are taking a keen interest in organizational claims, so it is critical that this exercise is handled with extreme care and does not reflect what the stakeholders want to hear but the true reality of the organization's situation at a point in time, and progress being made.
Organizations in many instances have followed global trends to formulate their contribution and have acted in a reactive manner to sustainability efforts. There is an urgent need to progress to a pro-active stance in this area and address development goals which are congruent with the organizational vision and mission.

Find out how to identify ways to contribute to the SDGs in your organization.
This article was written by Rob McKee, Enterprise Architect