My New Year's Resolutions – as an ArchiMate diagram
Well, here we are in 2015, and while stumbling through the aftermath of the New Year's celebrations, it's traditional at this point of the year to set out some resolutions for things that we will accomplish in the coming New Year.
OK, but exactly how does this help you? Well, every post on this blog is designed to help with one of the many challenges of enterprise modeling – and so I thought it might be interesting to look at how I could model my New Year's resolutions in ArchiMate.
Now, the initial idea came from a desire to exercise my ArchiMate skills in a new way, but it may well have value beyond that. For one thing, a diagram is a lot more of a visual thing to print out and post on my wall – much more so than a simple list. The second point is that ArchiMate models are not usually a simple list – they show relationships, which in turn offer better insight.
So, first question is – what viewpoint do I use? Let's break out my copy of Open Group publication N132 – "ArchiMate Viewpoints reference card". Well, resolutions are all about setting goals to achieve desired results, so something from the motivation viewpoint seems right. Realizing my goals…let's go with the goal realization viewpoint.
The goal realization viewpoint permits Goals and Requirements, Principles and Constraints.
I've got an Irish Grandmother, and I've decided I'd like to explore this part of my heritage. So in the New Year, I'm going to claim my Irish citizenship, and learn Irish. Not many classroom courses in Irish available where I'll be…so I need something that will let me study on my own. I've heard good things about the Rosetta Stone courses.

In the past few years I've been traveling a lot, but I'm now back in the UK and feeling sheepish that I've not visited a few famous places in the UK. Bath, Edinburgh and York seem appealing.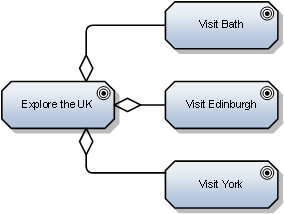 I want to keep up with my personal development, so I'll be refreshing my ITIL certification. I may also get a PRINCE certification, since project management and architecture interact.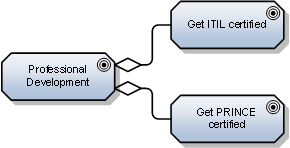 And it's time to get my health up to a new level. I used to be able to run 5 miles, but that's fallen by the wayside somewhat… so I'll set a goal to lose 5 pounds and run in a 10k race.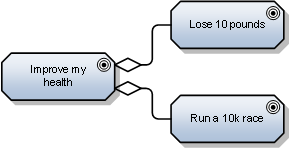 So let's look at the final output. Instead of a list, I have a visual record not just of my resolutions, but of why I chose them (the top-level goals), and anything I need to bear in mind as I go back to this list over the next 12 months.

Now, I'm not suggesting that everyone should do this (not everyone's quite as much of a modeling geek as I am), but I think this exercise has been a useful illustration of how a model, and especially the process of creating one, can be a useful exercise to shape thinking and ensure commitment.
Another way that I did consider was having my top-level aims as drivers that influence the specific goals. Technically ArchiMate allows for drivers to directly influence goals, but I decided to follow the viewpoints for ArchiMate strictly.