Microsoft continue to release new features in Visio Pro for Office365 with a new Education category, sample diagrams and third party templates. In fact, CATEGORIES have been renamed TEMPLATES in Visio Pro for Office 365. In addition to this content only being available in Visio Pro for Office 365, it is also only available online! This could be the start of a useful delivery system for Visio content, rather than having to install everything on the desktop … However, it also means that Microsoft can update the content at any time, so while the screenshots in this article are valid as of publication they are subject to change.
Looking to download Visio Templates right now? Head to our Starter Packs section to find a number of Visio templates and other helpful tools for Enterprise Architects, freely available for download.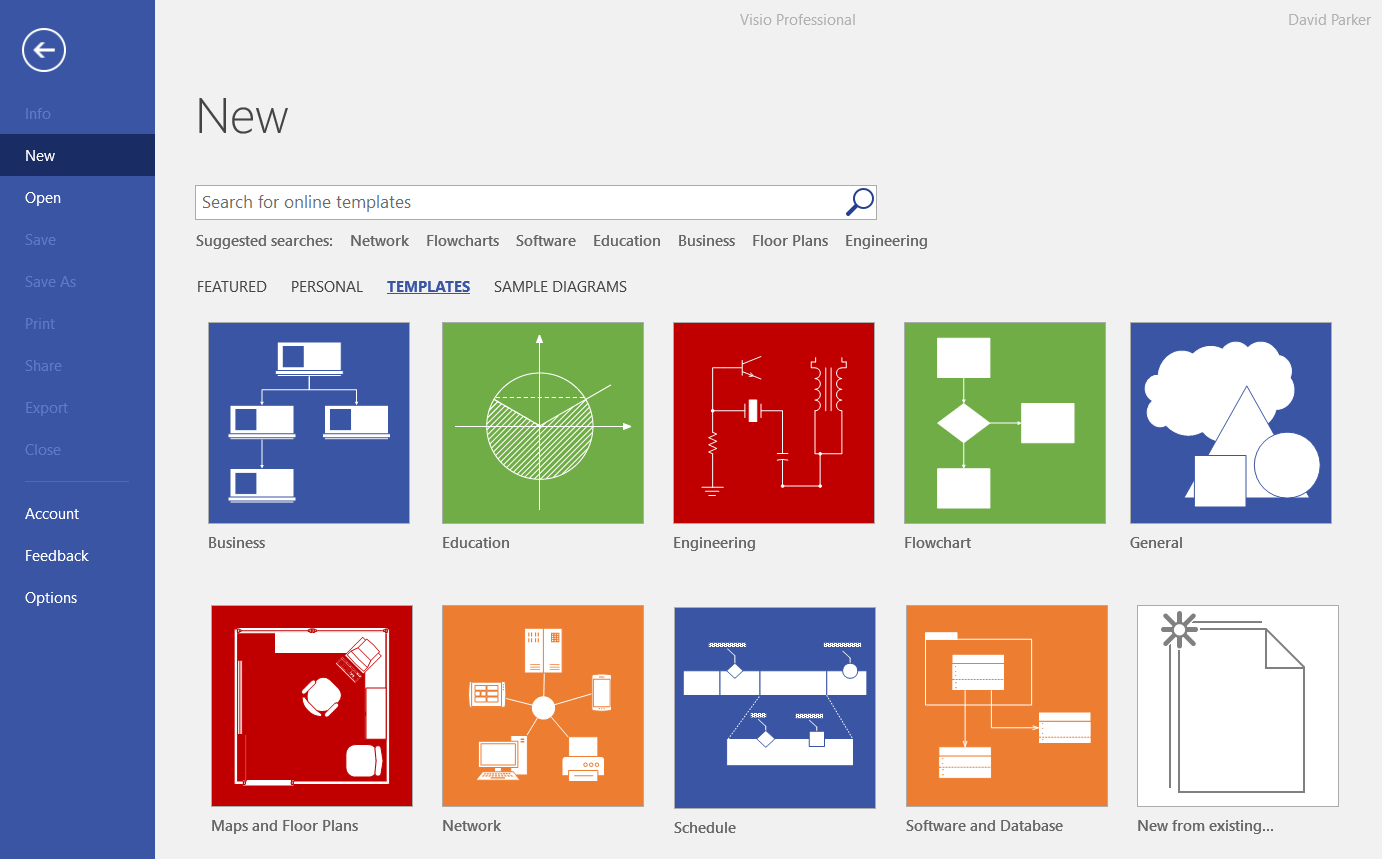 Templates Examples
The new Education templates …
The new Education templates could be very useful for students, teachers, parents or even Visio developers. The current Microsoft Corporation Education templates available are:
Algebra
Analog Clock
Electromagnetism
Geometry
Molecular Models
Music Instruments and Notes
Organic Compounds and Equations
Planisphere
School Posters
Science Posters
Sets
Soccer Formations
Tournament Fixtures
Trigonometry
Most of these templates are extremely informative, like the following shapes from the Algebra diagram.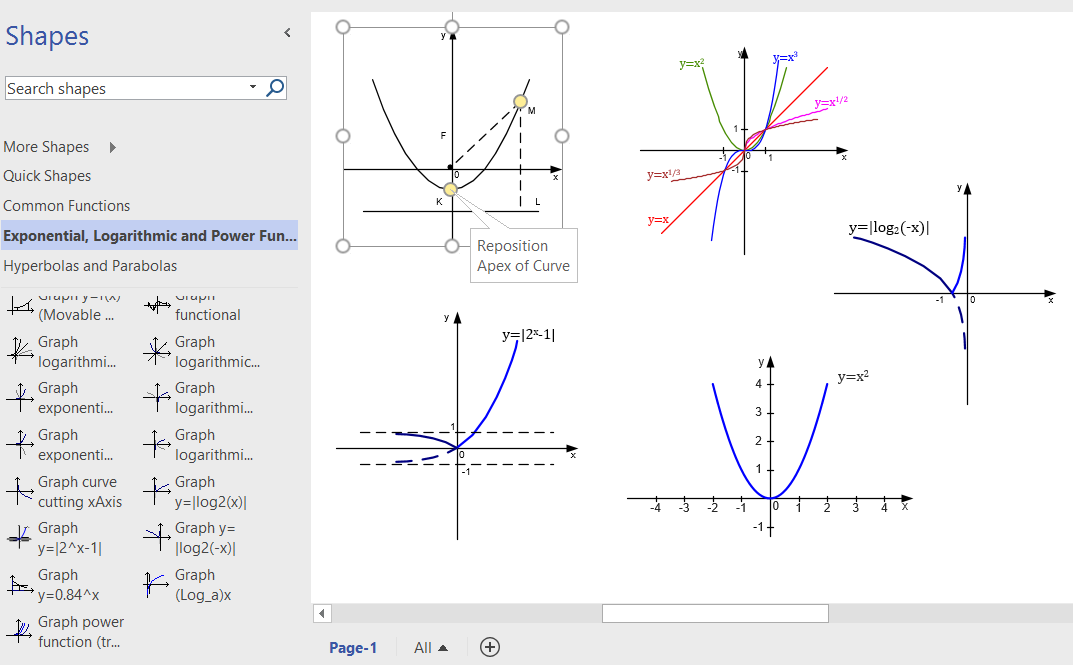 Algebra Templates
Some of the templates also include docked stencils from the Microsoft online storage system, but it is not currently possible to easily re-open them if they are accidentally closed (they are downloaded and installed into a temporary hidden folder).
Some of the shapes have control handles to re-position various elements, whilst some shapes from other templates have editable Shape Data values that change the appearance.
The fascinating Planisphere template contains a shape that has both. The date can be changed from the Shape Data window or by moving the yellow control handle.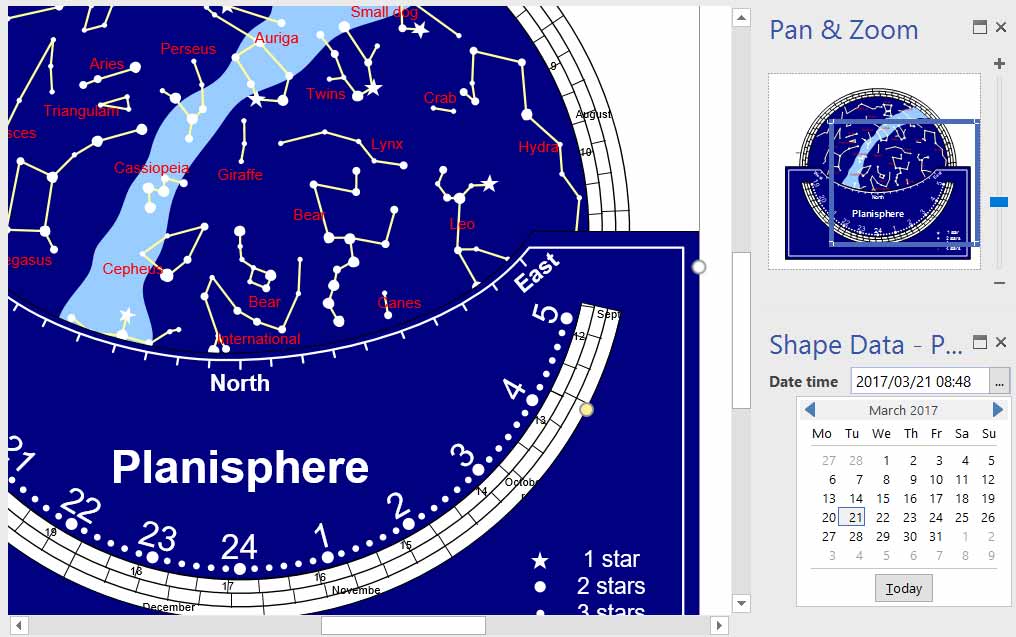 Although this is a really cool ShapeSheet example, it is frustratingly incomplete because there is no indication of the latitude that the night sky is viewed from (see https://en.wikipedia.org/wiki/Planisphere for more information).
In addition to the Microsoft Corporation templates, there are also Partner Templates available, such as the ones from myself at bVisual ltd, as can be seen from the following screenshot.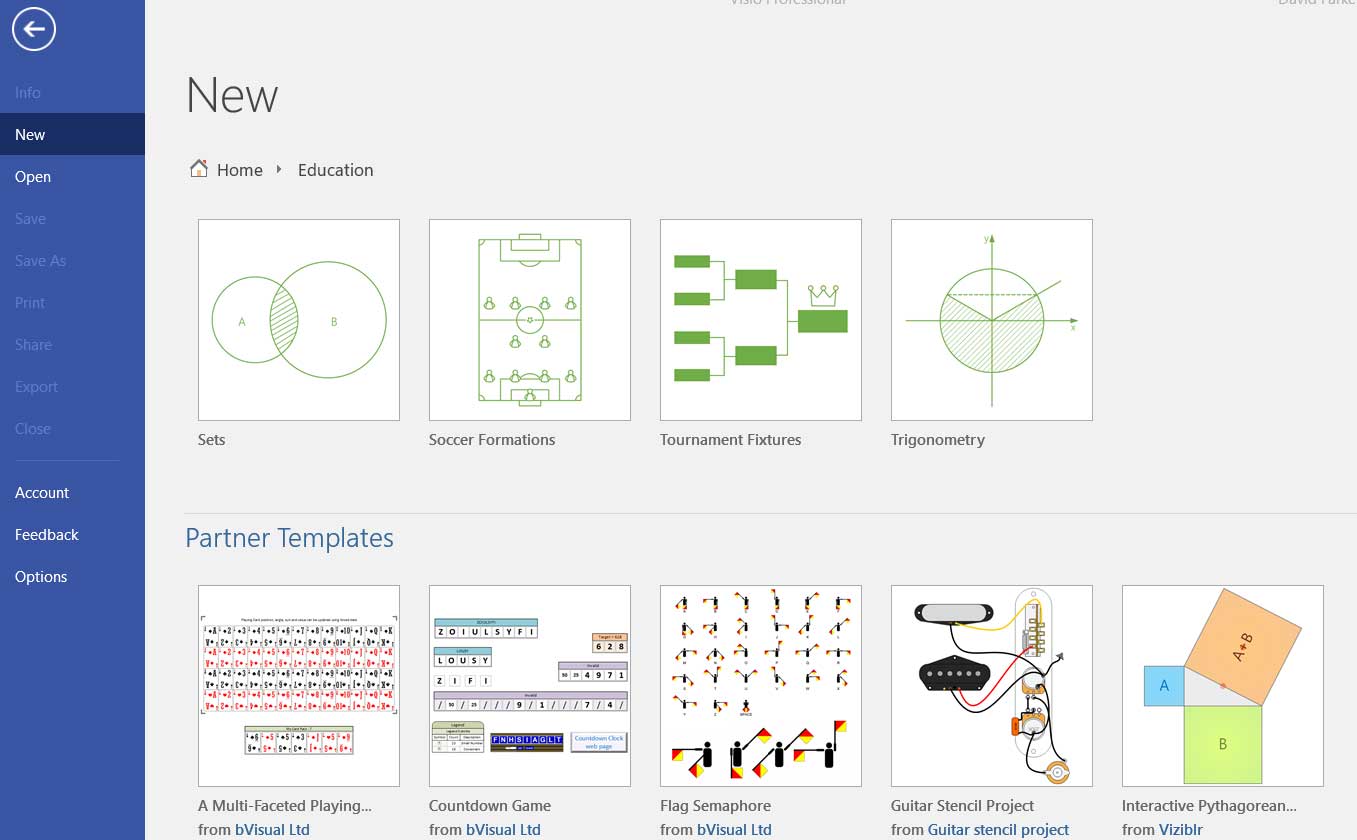 Not all of these templates are meant to be for business use, but all of them display how SmartShapes can be designed, making them useful for any budding ShapeSheet developer to analyze. There is nothing but ShapeSheet formulas used in these shapes, so there is no need to install any add-ins or worry about enabling any VBA macros.
Some of the Partner Templates are more clearly for business use, such as the four from Orbus Software that can be found under the Business templates.
ArchiMate 3 - Enterprise Architecture
Business Capability Model
IT4IT Reference Architecture Diagram
TOGAF 9.1 - Enterprise Architecture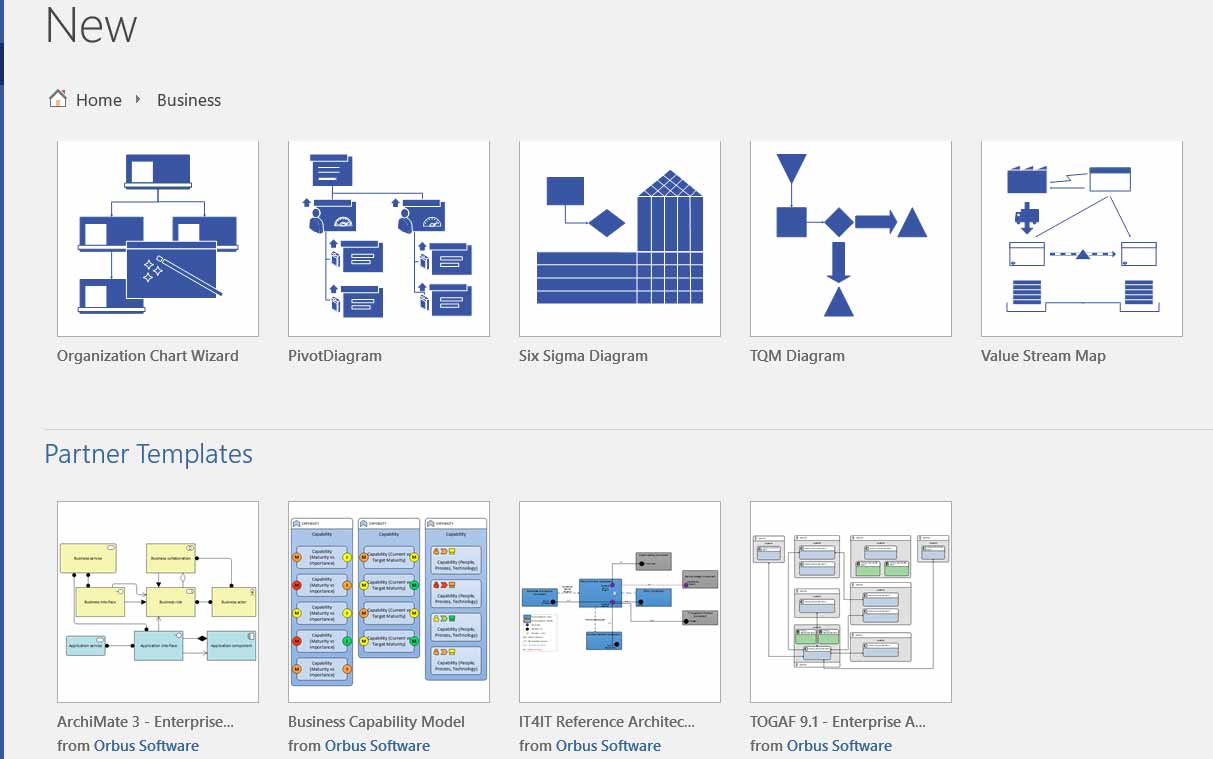 Business Templates
Registered Orbus Software users can also download starter packs from this website, but partner templates obviously introduce other Visio users worldwide to the selected partner's offerings. Visio Architecture diagrams are naturally a popular choice for templates given the widespread use of Visio for architecture diagrams. You can expect to find a wide range of publically available Visio architecture diagrams in addition to the specially designed templates from Orbus Software.

Microsoft and Third Party Sample Diagrams
Visio users often look around for the internet for examples of various types of diagrams, so Microsoft have now introduced the SAMPLE DIAGRAMS area in Visio Pro for Office 365. This provides far more than the possible three starter diagrams that were introduced in Visio 2016, including 13 examples of flowcharts from Microsoft alone.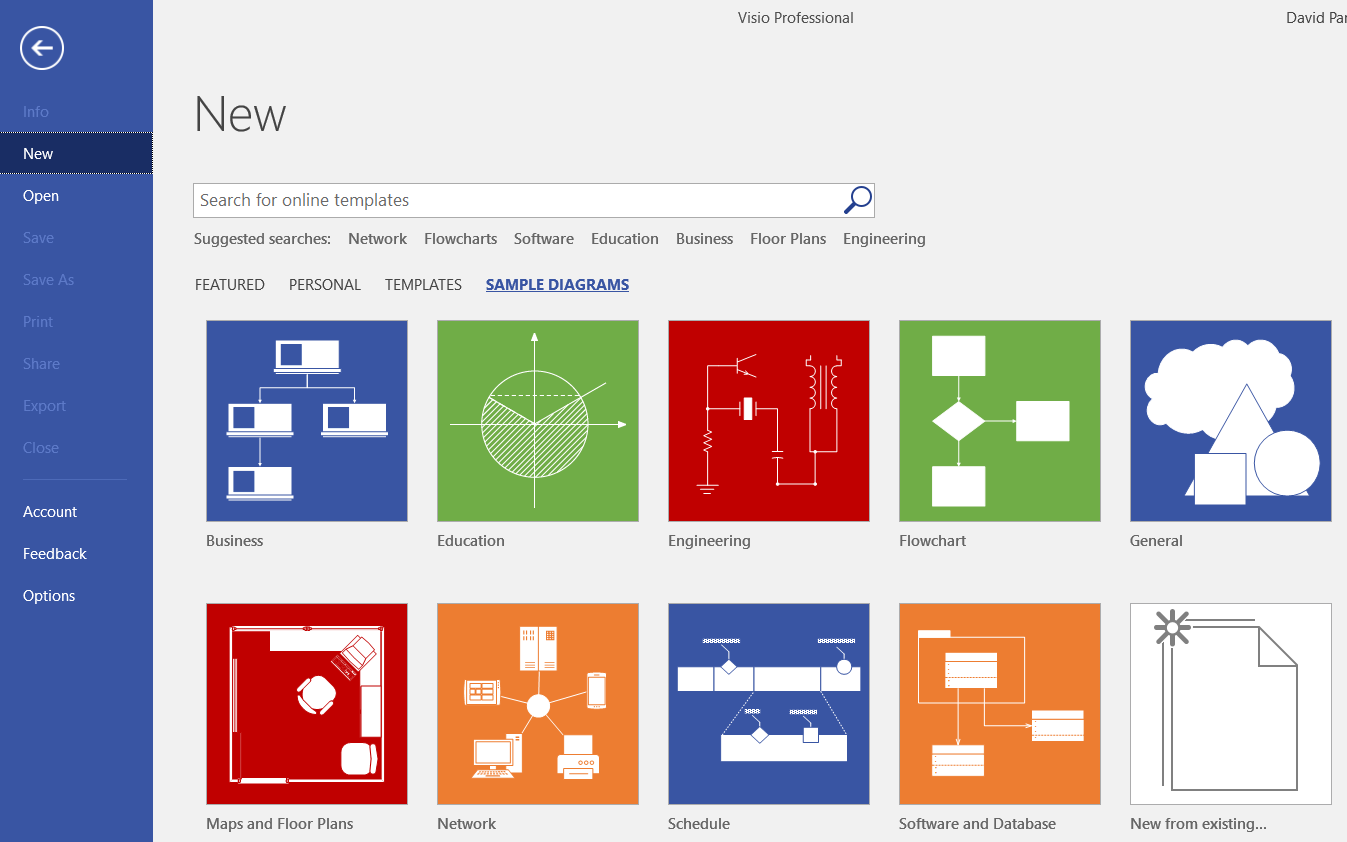 Samples Diagrams
Sometimes it is difficult to understand why some of the diagrams have been categorized as TEMPLATES and others as SAMPLE DIAGRAMS, but there is one difference that I have spotted: The samples only display the docked stencils of the Microsoft built-in ones. There are some visually appealing samples though, such as the Maps and Floor Plans / Site Plan one shown below.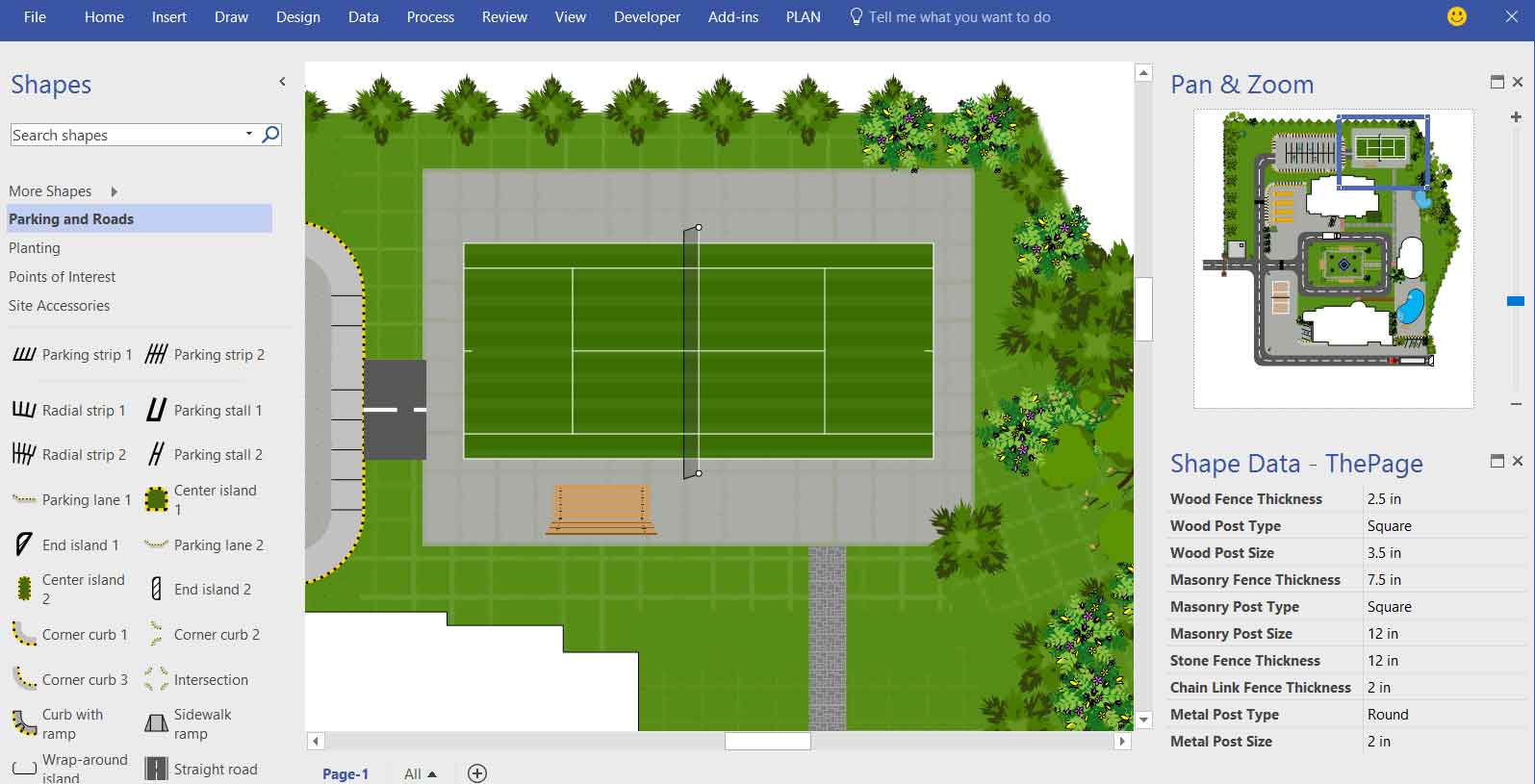 It would be a miracle if this sample was useful for another site, but it does show what can be done. Other samples, such as the General / Responsibility Assignment Matrix shown below, could be used to create a real diagram, but the Document Stencil would need to be opened to utilize the master shapes.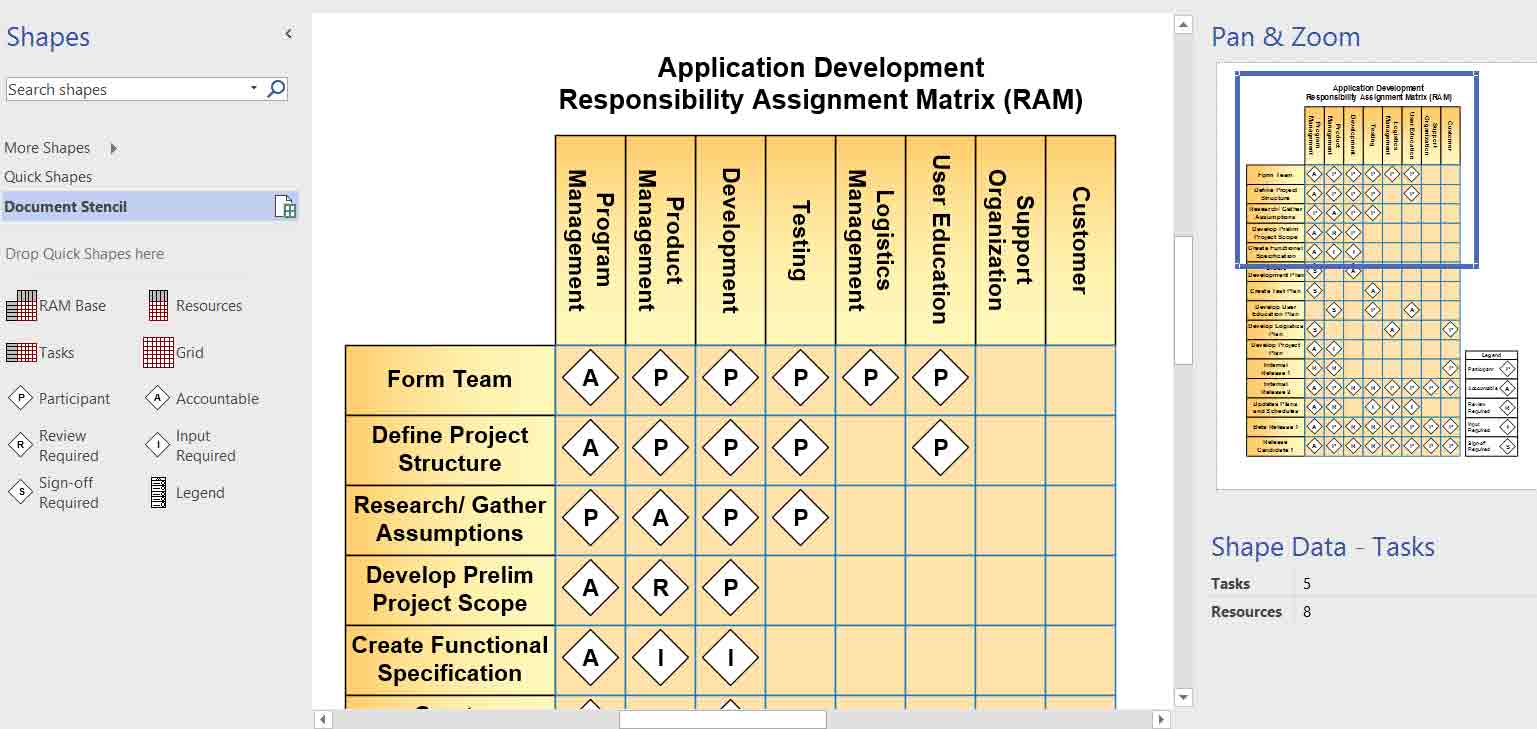 A quick look into the SAMPLE DIAGRAMS / Network area explains why CATEGORIES has been renamed as TEMPLATES. Category is now used as a way of filtering the sample diagrams.
Summary
The new Education templates should prove invaluable to some Visio users, especially those in schools and colleges, though I can recall seeing even cooler educational examples in my long association with Visio. However, the new online delivery method should make it simple for Microsoft to add more templates and samples whenever they want to.
The current third-party templates and samples were freely provided (at least, mine were), so they are, to some extent, advertising trusted Visio partners, but they do increase the awareness of the capabilities of Visio.
On the whole, these are great additions to Visio Pro for Office 365, and I look forward to seeing trusted third-party stencils becoming available within the interface.