Achieving Coherence in Architecture Models
About this Resource
An enterprise is a large, complex set of organizations, stakeholders, capabilities, products, processes, information systems, technologies and more. As enterprise architects, we try to bring some sense to all of this by embracing a framework that includes the different aspects of the enterprise, and then by creating models of the various different views.
Unfortunately, stakeholders coming from different perspectives often have a different understanding of certain aspects of the enterprise. These different understandings cause confusion, redundancy, inflexibility, inconsistency, and costs to the enterprise.
In this paper, Mike Rosen explains that if done carefully, we can start to expose these areas of incoherence in the enterprise in our architectural models and begin to drive toward a more coherent understanding. 
Already a Member? Sign in here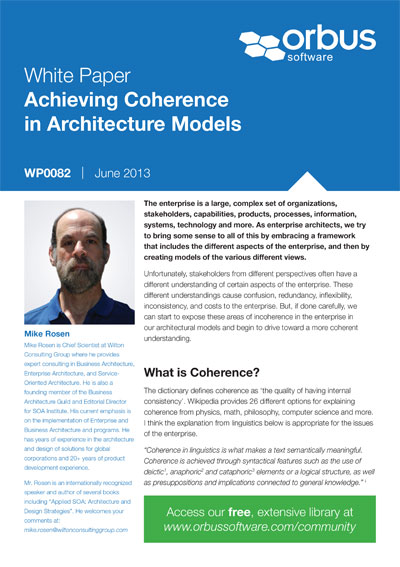 Our website uses cookies to improve your experience on our site. By using our website you consent to the use of cookies.