As-Is and To-Be Process Modeling: a Flawed and Failed Paradigm
About this Resource
Although the modeling of 'As-Is' and 'To-Be' Business Processes is one of the most widely practiced modeling exercises in enterprises around the world, paradoxically it is an essentially flawed and failed paradigm.
Originally, business improvement projects were variously termed as Business Process Re-Engineering (BPR), Business Process Management (BPM) or Business Process Improvement (BPI) projects.  It was at this time the concept of first modeling the 'As-Is' and then modeling the 'To-Be' Business Processes was introduced by large BPR/BPM consultancies.
This paper clearly explains the reasons why it is flawed and describes a tried and tested alternative approach that has none of its defects and can greatly accelerate bringing positive benefits to enterprises of any size.
Already a Member? Sign in here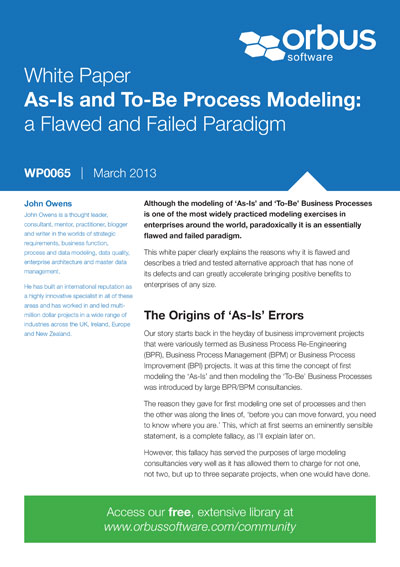 Our website uses cookies to improve your experience on our site. By using our website you consent to the use of cookies.