Building a Compelling Case for Business Process Improvement
About this Resource
Often, the hardest part of bringing business process improvement (BPI) to life in an organization is in building a compelling case to get the initiative up and running.
In this paper, Craig Reid provides a structured approach to building a compelling case for business process improvement (BPI) that will get staff at all levels of the organization involved and motivated to make the change a success.
It is intended to be used as a practical guide for Process Analysts, Change Managers and Business Architects to get buy-in to a programme of organizational change.
In summary the whitepaper details:
Why you need a compelling case
A nine step pathway to ensuring business process improvement initiatives obtain the necessary commitment to ensure success.
Already a Member? Sign in here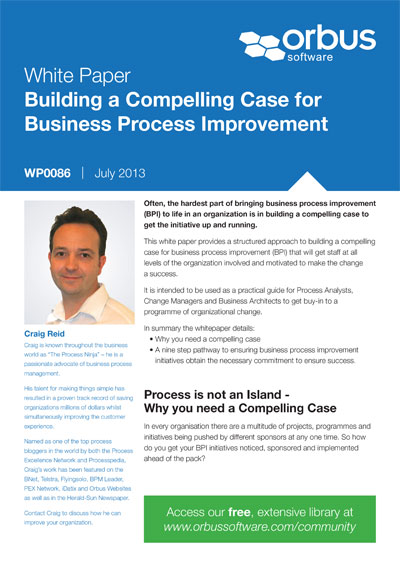 Our website uses cookies to improve your experience on our site. By using our website you consent to the use of cookies.