Business Capability Models: Why you might be missing out on Better Business Outcomes -
About this Resource
In Andrew Swindell's first white paper, he discussed the need to level an organization's architecture outputs to ensure  they prioritize key issues for their stakeholders. In his second paper, Swindell provided an insight on why planning, scoping and design activities must address all four enterprise architecture domains to avoid nasty surprises during the project delivery phase.
Now, in his third paper, Swindell explores practical examples for developing and applying a Business Capability Model and answers questions such as:
• What is a Business Capability Model?
• What are Business Capabilities and how are they enabled?
• What are the common misconceptions about Business Capabilities?
• How are they developed and why use them?
• What strategic questions do they help to answer?
Already a Member? Sign in here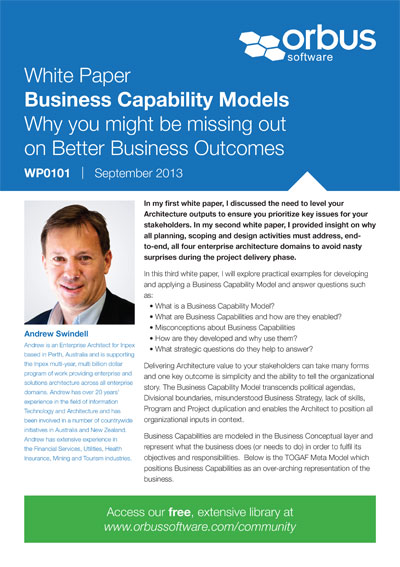 Our website uses cookies to improve your experience on our site. By using our website you consent to the use of cookies.