Creative Thinking for Business Process Improvement
About this Resource
The differences between business process improvement and business process engineering are subject to debate and it is argued that business process improvement is another term for business process re-engineering and therefore references to these are interchangeable.
At its heart, business process improvement is about solving problems and realizing opportunities. However, Brian Hunt believes that organizations don't seem to be getting any better at this.
In this paper, Brian considers how one of the main causes for this failure is a lack of creative thinking where organizations end up trying to make poorly designed business processes do more than they are capable of. Instead organizations should use creative thinking to find radically new ways of doing things.
This paper looks critically at how organizations do things and starts by asking the following questions:
• What do we want to do better?
• What do we want to stop doing?
• What do we want to start doing?
Already a Member? Sign in here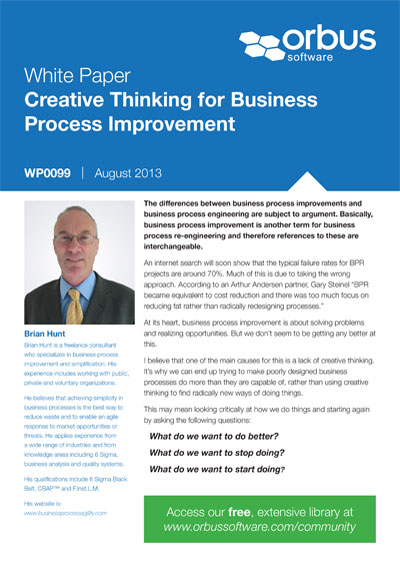 Our website uses cookies to improve your experience on our site. By using our website you consent to the use of cookies.