Defining a Social Architecture within the Enterprise Architecture Context
About this Resource
Organizations have a significant interest in the adoption of social technologies (e.g. Twitter, Facebook, Yammer) for creating an effective social enterprise but before adopting any social technology, enterprises need to understand and design their social architecture.
Social Architecture along with other well-established enterprise architecture domains is important for architecting and establishing an effective social enterprise. However, the existing mainstream enterprise architecture frameworks need to be extended for developing situation specific social architecture. This is where Asif Gill introduces The Gill Framework which provides the needed support for developing the social architecture and can be used with available tools within the overall context of enterprise architecture.
The paper begins by discussing the need for a new social architecture domain and considers The Gill Framework. Asif then continues to discuss how the framework defines the novel social architecture and the components involved.
Already a Member? Sign in here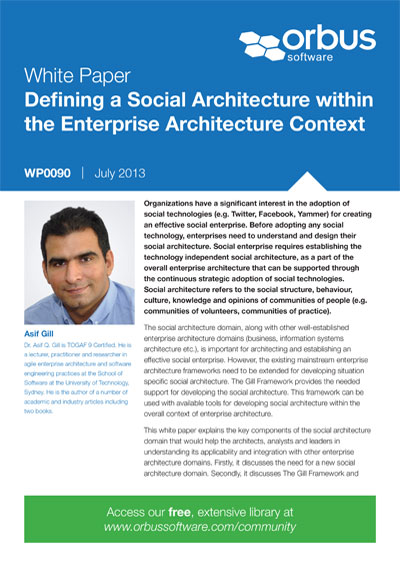 Our website uses cookies to improve your experience on our site. By using our website you consent to the use of cookies.