Is there such thing as a High-Level Business Process?
About this Resource
There are two essential business modeling techniques that should be in the toolbox of every business analyst; the first is Business Function Modeling, the second Business Process Modeling. The former is the most powerful means of modeling and demonstrates what it is that an enterprise ought to be doing. 
In recent years the Process Model has been used in ways that are not always appropriate. Some of these uses can even introduce logic and structural errors into the Process Models, resulting in quality errors and operational inefficiencies in the enterprise concerned.
In this paper, John Owens discusses the one use that is prone to introducing logical errors - 'High Level' Process Models - and breaks them down ('decomposing' them) to even lower levels of detail. He demonstrates what each of these structures and logic errors are, how they arise and most importantly how they can be avoided.
Already a Member? Sign in here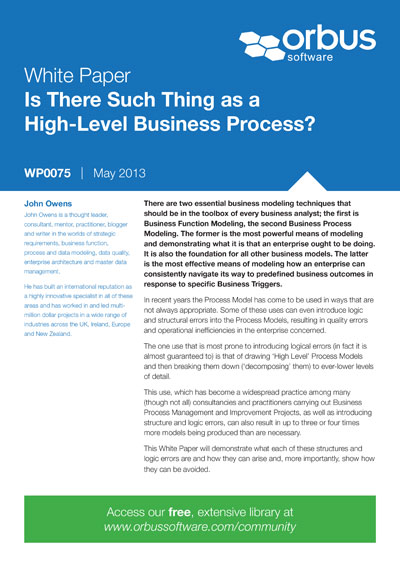 Our website uses cookies to improve your experience on our site. By using our website you consent to the use of cookies.