ISO 9001:2008 A Business Benefit, not a Burden
About this Resource
Since it was published as an international standard in 1987, ISO 9001 has gained a reputation for adding bureaucracy but little business benefit. Companies often felt that they had to have ISO9001 certification to satisfy buyers in government or in large organizations.
The latest version, ISO9001:2008 switched its focus from compliance to continuous improvement and a process led approach providing a framework which identifies and controls those activities that contribute to successful business operation and customer satisfaction.
In this paper, Brian Hunt describes the standard and explains why he believes that it should be used as a first step towards effective business process management and improvement. In the following pages, he will outline the basic principles and interpret the standard accordingly.
Already a Member? Sign in here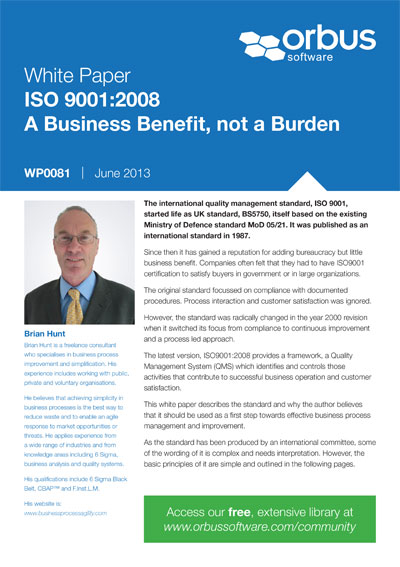 Our website uses cookies to improve your experience on our site. By using our website you consent to the use of cookies.