Observing the Process: How to see and document what happens on the ground
About this Resource
There can be many challenges when trying to understand an 'as-is' process. Often an end to-end process spans multiple teams in different locations, and it can be extremely difficult to capture an appropriate level of detail whilst simultaneously making sure that the bigger picture, macro-level view is correct. On top of this, there's the hidden issue of 'tacit knowledge': Knowledge that is unwritten and stored only in our stakeholders' heads – the type of knowledge that is often taken for granted and might not be explicitly mentioned.
When wanting to understand how a process works, generally techniques such as stakeholder interviews and workshops are used. These are both excellent techniques, however there's a danger that they will only expose part of the picture. This is why it's important to find ways of uncovering the 'tacit knowledge' that the stakeholders are privy to.
In this paper, Adrian Reed explores how observation can be used to supplement other elicitation techniques. He'll also examine why observation is so crucial to the overall process.
Already a Member? Sign in here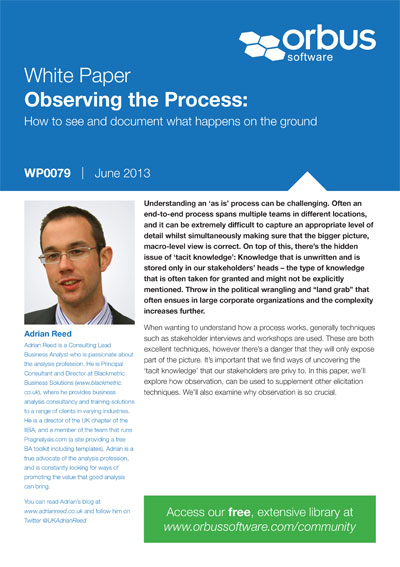 Our website uses cookies to improve your experience on our site. By using our website you consent to the use of cookies.