ITIL Framework Quick Reference Guide
About this Resource
In David Jones and Roderick Brown's recently published White Paper, 'Quick Reference Guide: Business Process Frameworks', they outlined the main Business Process Frameworks commonly in use. In this Quick Reference Guide, they cover the ITIL® (Information Technology Infrastructure Library) Framework.
ITIL® is arguably the most well-known and highly regarded process framework covering IT related processes. ITIL® is a reference model developed and managed by the UK Government; the owner of ITIL® is currently listed as HM Government. Like several other of the frameworks that have been covered in the Quick Reference Guides, ITIL® has become the de facto standard framework for IT Service Management.
In this paper, David Jones and Roderick Brown provide a useful Quick Reference Guide for organizations using ITIL® to improve their quality of service delivery while also lowering costs. The set of processes and best practices highlighted in this paper aim to drive both effective and efficient IT service outcomes.
Already a Member? Sign in here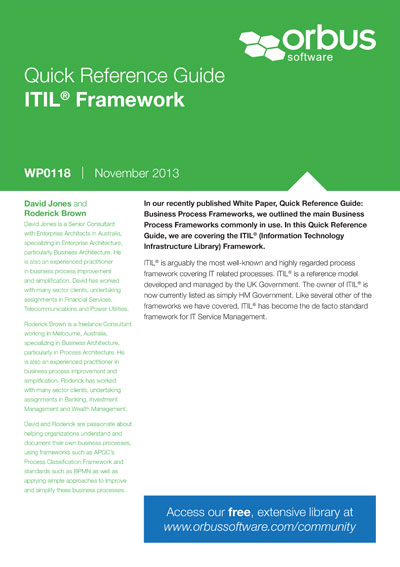 Our website uses cookies to improve your experience on our site. By using our website you consent to the use of cookies.